Story and photos by Phil Bonyata

B96 (Chicago's pre-eminent hip-hop radio station) sponsored another one of it's annual Summer Bash's at Bridgeview's brand-spanking new stadium - Toyota Park. The recently completed Toyota Park was built for $70 million and is the new home to professional soccer team - The Chicago Fire.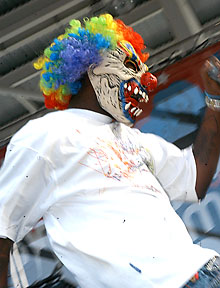 While the 20,000 seat glistening white stadium is beautiful and has all the modern amenities - the first-ever concert there was not without some freshman mistakes. From the small folded-chair seating and narrow entrance/exit gates (which caused a lot of traffic jams throughout the show) on the ground level.
Each artist's set lasted about 25 minutes - so it's not fair to try and give a complete review as the sets would have been quite a bit longer and more textured had each of the artists played their own show. Opening the bash was Ray J - who wooed the women with his smooth voice and velvety rhythms on songs like "One Wish" and "Wait A Minute." T-Pain's songwriting skills and mastery of R&B were quite evident on "I'm Sprung," and "I'm N Luv (Wit a Stripper)." Chameleon Pink, who showed up with blonde-hair and very tan and without a shade of pink anywhere on her body, had some bouncy fun with songs like "Stupid Girls," "Family Portrait" and the seminal dance favorite "Get the Party Started."
One thing should be noted - if you've never been to a true R&B and/or hip-hop show - be prepared to dance as the entire audience gets their groove on throughout the entire show. It's a nonstop grindfest.
Ne-Yo, a talented musician who wrote for a number of heavy-hitters before the age of 22, writing songs for Mary J. Blige, B2K and Faith Evans, and his songs come from the roots of '70s and '80s soul with smooth takes on "So Sick" and "When You're Mad." Mary J. Blige's voice has never been better than it was last night - she can almost be compared to a modern day Aretha Franklin. Her voice lit up the sky with a deep and full range on "No More Drama." 18 year old beauty Rhianna (who profusely thanked B96 for helping to launch her career) let her dance moves and crystalline voice shine on "SOS," "Unfaithful" and "Pon De Replay." Sean Paul's reggae-lite fused rap and signature Signal De Plane and Pon De River dance moves forced the audience to heave and swell in chaotic, yet graceful fashion. The feel-good music reached it's climax on "We Be Burnin'" and "Temperature."
It was mostly a welcome beginning to hopefully many more concerts at this shiny new stadium.