Story and photos by Matt Schwenke

The intimate confines of the Vic Theatre made for a lush night of music from Big Head Todd & the Monsters as they tour in support of a new live release and prove their live performances are just as noteworthy as their studio material.

Early standouts of the show included "Ellis Island" from the group's 1993, breakthrough release Sister Sweetly and the band's take on the Led Zeppelin classic "Tangerine," before an acoustic version of "Monument in Green."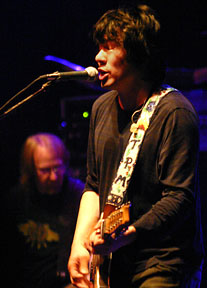 From BHTM's latest studio album, Crimes of Passion, "Dirty Juice" brought the heavy, boot-stomping blues, while "Love Transmission" leaned toward straightforward rock but with an off-meter chorus to keep things interesting. "Crazy Mary," from Beautiful World, may have been the highlight of the set as frontman Todd Park Mohr provided gritty wah and wailing solos as the band dug into a deep groove. But, the run of "Vincent of Jersey," into "Leaving Song," then "Conquistador" and "Boom Boom" made for a spectacular ending to the set.

Returning quickly for an encore, the BHTM classic "It's Alright" received much applause before a double-time version of "ICU in Everything," featuring a mid-song sax solo by Mohr, upped the applause even further. Up-beat versions of the driving "Resignation Superman" and the anthemic "Circle" kept the crowd on their feet, and to top the evening off, Mohr and company dipped deep down in their musical pockets for a funky James Brown medley, as an homage to the Godfather of Soul. As the band paid their musical respects, the crowd agreed and screamed for more.