Story and photos by Andy Argyrakis

Since quitting their day jobs of mowing lawns and fixing apartments as a pair, singer/guitarist Dan Auerbach and drummer Patrick Carney took up the full-time reigns of their band The Black Keys. At first, their local Akron, Ohio gigs took awhile to fill up, but after limping around for the first few years, they slowly amassed a grassroots following, hit the road and scored a deal with Fat Possum.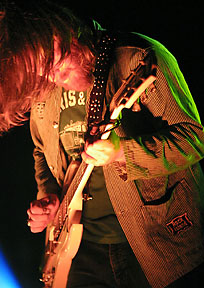 From there, they've spent the better part of the 2000s jumping from one prominent tour to the next, such as opening slots for Beck and Radiohead, plus several solo headlining jaunts. Robert Plant is a fan, Rolling Stone loves the band and its current record label Nonesuch is also the home to Wilco and David Byrne.

All those examples of consistent growth continued when The Black Keys returned to the windy city, starting with the fact the group booked two shows at the Vic Theatre (signaling the end of opening act status). In the first of the back to back engagements, the pair pummeled away at the majority of 2006's Magic Potion, along with a smattering of the past four years, confirming their ditching of labor for artistic love was a fruitful decision. From their first few seconds on stage, it was clear the guys have increased in both confidence and chemistry levels, unleashing with scalding power and deep fried licks. In one sense, The Black Keys could be considered similar to The White Stripes, though many of those comparisons come because each group operates with only two members. Like the Stripes, the sounds come across much thicker than the amount of players and there is a certain sense of garage-derived vintage rock n' roll, but these Keys also have a lock down deep in the Delta-blues. Take for instance the snarling "Girl Is On My Mind" or the raucous "Your Touch," two thick fisted examples of their alternative undercurrent and soulful howls. There were also several times when those rootsy groans were mixed with psychedelic shock bolts, such as "Elevator" and "No Thrust," some of the set's most punchy sonic tornados.

Fans of the late great bluesman R.L. Burnside would've probably fallen in love with "You're the One," while more rock oriented Led Zeppelin listeners could've connected come "Just Got To Be," (which further cemented why Plant's a fan). Yet The Black Keys were rarely derivative during their 90-minute set, taking everyone's favorite instrumental elements, combining them in a high speed blender and then shedding through any preconceived notions with scratchy singing, smoky chords and searing percussion. intricacy.