Blind Boys show the light
The Blind Boys of Alabama
Pabst Theatre
Milwaukee, WI
Oct. 7, 2004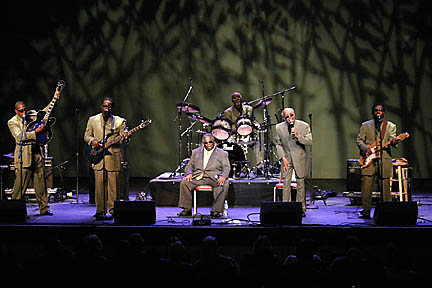 Review and Photos by Matt Schwenke

The Blind Boys of Alabama walked onto the stage (the blind members being led by a non-blind member of the band) at the Pabst Theatre and took a second to get situated. Sharply dressed in front of a simply lit backdrop, the Blind Boys of Alabama had nothing to distract you from their music, and it only took three or four songs before the crowd began to get up, clap and dance.
The Blind Boys of Alabama are true professionals with three Grammy's already in their name. Front-man Jimmy Carter provided most of the dialogue with the crowd and introduced the band with a humor that is both ageless and timeless. Later in the show, Carter walked out into the crowd and sang. With one of the guitar players trying to bring him back to stage, Carter would seem to be going back to stage only to turn around and sing some more in the aisle. The other main singer, Clarence Fountain (I think. The website bio only shows old pics of the band) had a booming voice that seemed to erupt out of him. Often shaking and moving around, Fountain seemed to be feeling the music with every note he sang. The other blind member of the band, drummer Eric McKinnie who is also the road manager, was poised as the leader of the band.
McKinnie's drum solo during the show was impressive and recieved loud cheers and clapping. At the end of the encore, the band performed a song that Ben Harper had written but thought would sound better if the Blind Boys recorded it-- I am pretty sure he is right. The band has recently recorded with Ben Harper and just released There Will Be A Light.
Not be left unmentioned, the other three members of the band were solid too. Making sure to watch out for the rest of the band, guitarists Joey Williams and Bobby Butler and bassist Tracy Pierce also had their time to "tell the crowd how they were feeling". What followed was a unique solo by each of the musicians. The whole band walked off the stage to a standing and cheering crowd.



Here's Your Chance to.... Respond!



Your feedback will be featured on
Rant or Rave within 24 hours.