Buddy Guy electrifies audience
with acoustic performance
Buddy Guy
Northern Lights Theatre
Milwaukee, WI
Mar. 11, 2004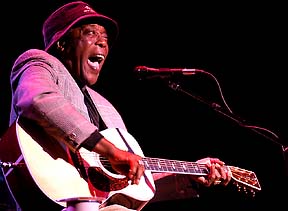 Buddy Guy
Review and Photos Tony Bonyata

In support of his latest Jive Records release Blues Singer (a wonderfully stripped-down acoustic blues album that was inspired by his former boss Muddy Waters' classic record Folk Singer) blues legend Buddy Guy brought along a simple, yet immensely effective band for an intimate and largely acoustic performance at Milwaukee's Northern Lights Theatre last Thursday evening.
With his minimalist backing band of drums, upright bass and searing slide guitar (courtesy of the talented Jimbo Mathus of Squirrel Nut Zippers fame) Guy showed that the strength of his blues comes from deep within his soul and not necessarily just from the power of his electrified guitar (a power that certainly can't be denied, as it influenced the likes of Jimi Hendrix and Eric Clapton in the early '60s).
With a commanding voice that resonated with low earthy moans as well as soaring buttery highs, Guy and company ran through a small handful of his own classic numbers along with a wealth of covers from Muddy Waters (a funked up version of "Hootchie Cootchie Man"), Ray Charles (the raucous "It's Alright"), Marvin Gaye ("Ain't That Peculiar"), Jimmy Reed ("Going to New York" which featured a dangerous six-string showdown between Guy and Mathus) and even Cream ("Strange Brew"). Two of the covers that Guy unveiled from Blues Singer proved to be not only the oldest numbers of the evening but also some of the most interesting. Looking healthy and happy, the 67-year old playfully toyed with the audience as he delivered wonderful takes of both Skip James' "Hard Time Killing Floor" and Son House's "Louise McGhee."
Whether seeing Guy perform in an intimate acoustic setting as this or his more traditional electric live show there's always an element of surprise - from songs being prematurely truncated to moments of truly inspired guitar playing (both evident at his Milwaukee stint). During one of his newer numbers, the guitarist grabbed a drumstick and lightly caressed the strings of his guitar, giving a strange psychedelic effect to the raw Delta blues number that guitarist Jimmy Page has been in search of ever since he recorded Led Zeppelin III.
The only pitfall of the evening was that with such a huge catalog of material the blues singer only performed for an hour and fifteen minutes. Luckily for the audience, however, Guy ended the evening on a high note as he picked up his electric guitar and rocked his way through the entire theater - balcony and all - for a scorching take of "Damn Right, I've Got the Blues" and "Mustang Sally."


| | |
| --- | --- |
| Buddy Guy | Jimbo Mathus |
Here's Your Chance to.... Respond!


Your feedback will be featured on
Rant or Rave within 24 hours.