Come on grumpy David, get happy!
David Cassidy
House of Blues
Chicago, IL
Aug. 5, 2004
Story and Photos By Andy Argyrakis

What do you call a guy who complains about his soundman on six separate occasions, scolds the audience during four instances for talking too loud (including ending a song early, subsequently lashing out at everyone for being "too distracting") and has an acoustic guitar die not once, twice but three times in front of the ladies during a despicable cover of The Beatles' "Blackbird"? None other than embittered ex-teen idol David Cassidy of Partridge Family fame, who desperately attempted to revive snippets from the TV show's run, touch on his ill fated solo career and throw in an extremely random assortment of covers. The reason for the train wreck of an experience was probably one of two options, first the chance to earn some quick cash and second (or more appropriately) to do some plugging for the revitalized version of his old program, which he's co-executive producing with fellow cast members Shirley Jones and Danny Bonaduce. Dubbed "In Search of the Partridge Family," the trio is currently interviewing wannabes throughout the country in a VH1 reality styled TV show, scheming to revitalize the plot lines of yesteryear in more contemporary settings.
It was those moments of Cassidy's set that were the closet to salvageable thanks to his nostalgic croon over a five piece band and two background singers as women in the audience went crazy ever step of the way. He may have been off key in many cases, yelling at his crew for not having his vocals at the right volume (keep in mind, the House of Blues is regarded as one of the country's most acoustically pristine venues) but still those gathered seemed to find some appeal in "I Can Feel Your Heartbeat," "I Woke Up In Love This Morning" and "I'll Meet You Halfway."
However, it was all down hill from there given miserable renditions of several rock and roll classics that in a musical sense, were worth sentencing the headliner to life in prison. Besides butchering "Blackbird," the actor turned singer also degraded the stock of the fab four's "You've Got To Hide Your Love Away" and Bill Withers' "Ain't No Sunshine." And just when one thought the agony was about to end, a mutilated take on The Rolling Stones' "Gimme Shelter" surfaced, during which Cassidy made a pathetic attempt to momentarily imitate Mick Jagger. He also returned to his grouchy side in several more situations, like the time he told a fan with a cell phone pointed towards the stage to put it away (followed up with a short swat at it) and a "don't pull" reprimand to a handful of fans clamoring for his sweaty sleeve. Even though that frown was turned upside down on the outside for the finale "I Think I Love You," Cassidy scooted off stage with no encore and didn't even address The Partridge Family's key cut "Come On Get Happy." Maybe if he did, it would've added a slight degree of pleasantly to what was otherwise a series of progressively worse lowlights.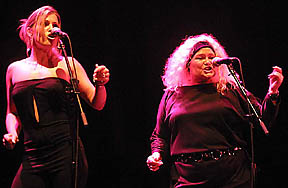 Here's Your Chance to.... Respond!


Your feedback will be featured on
Rant or Rave within 24 hours.