Story and photos by Andy Argyrakis

For the past twenty-six years, the Chicago Music Awards have been saluting the city's top talent, introducing new artists and recognizing the heaviest hitters from behind the scenes. Throughout the years, the program has given nods to everyone from R&B icon R. Kelly to rapper Kanye West to rock hero Billy Corgan and virtually everyone else of prominence who's called Chi-town home at one point or another. This year was no exception, placing a particular emphasis on those who've shaped the local scene from the other side of the front lines, such as radio hosts, producers and writers, though artists were still in ample supply.

Some of the most immediately recognizable names included radio disc jockeys Richard Pegue, Dick Biondi and Clark Weber, all of whom received "Lifetime Awards" for their vast contributions to the nearby airwaves.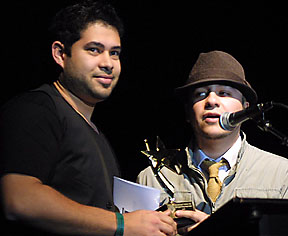 Performers such as local jazz legend Fred Anderson and gospel great Delores Washington (from the Caravans) also took home honors in that category, along with historic urban film maker Ronn Pitts.

Another major category on the program was the "Award of Honor," which was passed out to entertainers of various distinctions. One of the categories' clear headliners was Kevin Chalfant, who was saluted as a rock/country producer, but also a prolific solo artist, band member and songwriter.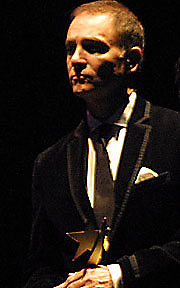 Following an initial rise to fame as singer with Interscope super group The Storm (also comprised of Santana and Journey members), the switch hitter scored a BMI Songwriting Award for that group's smash single "I've Got a Lot To Learn About Love" and also penned material for Cher's comeback album Love Hurts. After thanking the aforementioned artists, his family and event organizers, it was time to pass the microphone since many more presentations were still to come in the marathon, nearly four hour event.

Veteran DJ/artist Robert (Bob) Stroud was also an immediately recognized voice and face, both from his time on stations such as 97.1 FM "The Drive" (the current home for his enduring program "Rock 'N Roll Roots"), plus membership in oldies act The Cryan' Shames. Additional "Award of Honor" salutes were just as diverse, including Oprah Winfrey XM radio producer, writer and radio host Mark Ruffin, Chicago Gospel Festival coordinator/radio host Pam Morris and African/reggae star Zeleke Gessesse (who earned kudos for his school building efforts in Ethiopia).

Hosts LeeAnn Trotter (of NBC 5 TV) and Frank Pelligrino (from classic Chicago blues club Kingston Mines) kept the evening flowing and also introduced a slew of entertainers who took the stage in between award distribution. Some were met with better audience reception than others, though eclectic standouts included classical violin player Rachel Barton Pine (whose credits include the historic Jimmy Page and Robert Plant reunion) and piano tinged art rockers The Saturn Project. While the event wasn't nationally telecast, it did score some face time on NBC 5, giving additional attention to area arts contributors. As for the rankings in several specific categories (boasting artists such as Barton Pine, The Saturn Project, the Lovehammers, no shows West and Lupe Fiasco, plus many more) log onto www.chicagomusicawards.com.