Story and photos by Andy Argyrakis

With the holiday shopping season right around the corner and countless record store shopping choices (or what's left of them with the demise of Tower Records) it's often tricky to know exactly what new tunes to pick. But New York's annual CMJ Music Marathon (hosted by College Music Journal) helped music fans weed through the diamonds in the rough, boasting a slew of major and independent record labels' hottest artists, while providing an updated glimpse at a handful of old timers. Of course, no week-long event boasting hundreds of bands could be complete without a lengthy list of informative panels, which also directed fans towards current music industry trends and important issues, such as the closure of the Big Apple's legendary CBGB and a timeline of Lollapalooza (which returns to Chicago for the next five years). Here's a look at those topics, the latest rages, the greatest memories of yesteryear and a few worth avoiding no matter how much people are talking about them.

Cremes of the crop

The talk of the town was undoubtedly The Decemberists, who after finding fame underground scored a deal with Capitol Records.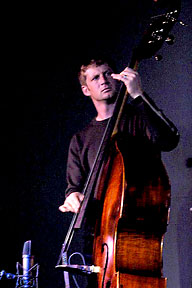 Though the Colin Meloy-led five piece had no trouble selling tickets on its own, a brand new album called The Crane Wife and major label budget helped help make the demand for the group's Hammerstein Ballroom so overwhelming that an endless line wrapped around the venue's block. Thankfully, the powers that be anticipated the rush in advance and staged an afternoon set at the Apple Store Soho, during which a few hundred die-hards were treated to several acoustic songs from the album in the upstairs theatre. The group melded folk, pop, prog and Celtic arrangements with fairly tale-like lyrics to transport fans to a blissful, mid-day alternative universe.

A close runner up to The Decemberists' demand were Brit poppers Fields, who played to a sold out Bowery Ballroom. Led by Icelandic singer/keyboardist Thorunn Antonia and singer/guitarist Nick Peill, the ethereal act merged the sweeping swirls of Coldplay with icy dance rhythms and folk nuances.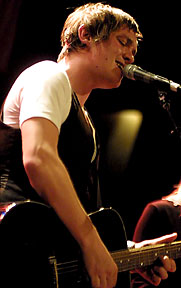 After finding fame on the British indie label Black Lab, the group officially debuts on Vice early next year under producer Michael Beinhorn (The Bronx, Red Hot Chili Peppers).

Hip highpoints

Chicago's very own Assassins have already gained a local reputation as an innovative dance/pop/electronica act warming up for New Order last year and Duran Duran during the recent Sears Centre opening. Though The Annex was a lot smaller than that mammoth arena, the group commanded the club with percolating charm from the self-released "You Will Changed Us," carried by the suave vocal tradeoffs between Joe Cassidy and Merritt Lear. Aside from throngs of newly converted Big Apple fans, Duran's Simon Le Bon himself was spotted in the crowd catching Assassins' CMJ set the night before. Bill sharers The Photo Atlas were amongst the festival's brightest surprises, unveiling its January release on Morning After/Stolen Transmission Records. The guys combined chilling keyboards and grinding guitars for a delectable meshing of Depeche Mode and Kasabian.

Anyone walking past B.B. King's blues club could've sworn either an early version of U2, a reunion of The Police or a slightly poppier version of Radiohead was playing inside.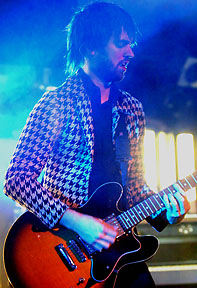 In reality it was New Orleans-bred experimental rockers Mute Math, who hit NYC after a hometown appearance at Voodoo Music Experience. The group's mixture of rippling percussion, superb synth sounds and front man Paul Meany's charismatic showmanship led to a truly alluring and progressive experience to say the least. The group just expanded its self-titled CD containing bonus tracks and several concert cuts.

When this 80s inspired band debuted in 2003 with a self-titled CD on Geffen, members seemed more like Weezer wannabees than artists of their own. But throughout the three years that followed, Rooney has matured into a much more self-assured entity, tipping its hat to influences like The Cars and new schoolers The Killers without aping those sounds. The group's Irving Plaza concert previewed a disc that's currently being recorded (and due out early next year) featuring slices of Beach Boys- esque surf pop on "Paralyzed" and danceable keyboards come "Believe In Me."

Skip or be sorry

Australian singer/songwriter Ben Lee may have been applauded as a one time child prodigy in his homeland, along with his recent collaboration with Ben Folds and Ben Kweller.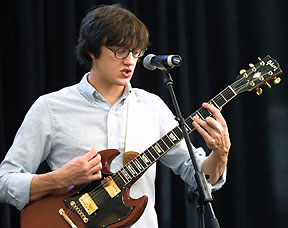 But nowadays the acoustic artist isn't having such an easy time distinguishing himself from the pack, with selections from his latest "Awake Is the New Sleep" (New West) sounding pedestrian at best. Missouri's Someone Still Loves You Boris Yeltsin also fell into a sluggish rut of shoe gazer sleepiness, despite acclaim for its 2006 album "Broom" (Polyvinyl) in Spin. Though they're sure to find audiences with faithful, consider skipping over these titles in the browser bins.

Panel power

Even though threats of CBGB's closure have been lingering for the past few years, its demise became official this year. While the last decade failed to produce the caliber of yesteryear's lauded acts (including The Ramones, Talking Heads, Patti Smith and Blondie), the venue was indeed a landmark that was shamefully forced to shut its doors after an exorbitant rent increase. Panelists such as The Ramones' Tommy Ramone and Blondie's Chris Stein complained about the city's lack of preservation interest and touched on old times (such as when they'd hang out at the club and jam together prior to becoming famous). CBGB founder Hilly Kristal appeared especially saddened by the news, though he offered a glimpse of hope the club could reopen in Las Vegas.

It's hard to believe the famous Lollapalooza Festival just celebrated its fifteenth anniversary and it's even more remarkable that after a canceled 2004 run, the event could rebound to such healthy degrees.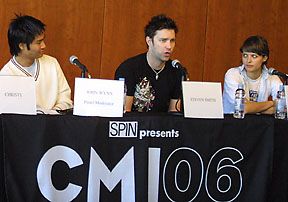 A slew of artists from all associations gathered to share memories and talk about its current streak of liveliness, including George Clinton (of Parliament-Funkadelic fame), Duane Denison (former guitarist of Jesus Lizard), Gibby Haynes (leader of the Butthole Surfers), Maureen Herman (former bassist of Babes in Toyland) and Donita Sparks (co-founder of L7). Though many of these artists participated when Lollapalooza took on a tour format, Chicagoans have been rejoicing since 2005 when the single weekend soirée visited Grant Park. As of late October, organizers announced its return at the same venue through 2011.

In keeping with the festival's diversity, another panel called "Video Star Confidential: Top VJs Tell All" pooled together various television jockeys who talked about tricks of the trade and recent changes in music television networks. Obviously there's been a trend for certain stations (such as MTV and VH1) to shy away from spinning actual tunes in favor of reality shows, though thankfully there's still several stations balancing both. One of the most cutting edge alternative networks doing just that as of late is Fuse TV, which was represented by Steven Smith. He and panel moderator John Wynn (of CD USA fame) were especially insightful and comical in their dialogue, sharing interview secrets and tips, plus stories of chatting with celebs like The Cure's Robert Smith, Rob Zombie and even Paris Hilton. VJ Christy (who simply goes by her first name) also added tidbits about how video program formats are increasing online, such has her cyber station The ManiaTV! Network. But no matter who the VJ or the station they represented, all agreed the key component of their positions is to discover and uncover as many inventive fresh bands as possible, which tied in perfectly with the Music Marathon's main priority.


Broadway bonus turned bummer
And of course no trip to New York City could be complete without taking in a Broadway play, which in the case of The Times They Are A-Changin' at the Brooks Atkinson Theatre, could've easily been of interest to any music lovers throughout CMJ's various venues. However, the idea of Bob Dylan's songbook being turned into a big budget musical with slick dance steps and direction by Twyla Tharp (Movin' Out) is indeed questionable, especially considering the critical darling's legendary artistic legacy. Unfortunately his more brooding, introspective lyrics didn't fit nearly as neatly into her flashy box of fun, often sounding out of place on an elaborate circus set and a storyline about ringmaster Captain Ahrab (the Neil Diamond-esque Thom Sesma), his son Coyote (the charismatic Michael Arden), a runaway named Cleo (the charming Lisa Brescia) and various clowns trying to survive under the same big top.

While the singing was stellar on smashes such as "Don't Think Twice, It's All Right," "Just Like a Women" and "Like a Rolling Stone," it was slightly unsettling seeing them staged in this type of environment (even with Dylan's approval). Perhaps it was because the plot was so thin, barely developing the characters beyond a jukebox revue, despite their impressive vocal and physical acrobatics. Unlike Movin' Out with the music of Billy Joel, The Times They Are A-Changin' didn't intertwine each song's lyrics nearly as seamlessly, coming across as separate entries randomly cut and pasted together.

Though Tharp didn't just stick with the most obvious selections and live band arrangements (expanding "Gotta Serve Somebody" into a superb gospel rave up) the magic was truly missing with minimal character development. The closest it came was during "Blowin' In the Wind," which featured an altercation from old school circus leader Ahrab and one of the younger clowns, but the tussle was far from compelling or heart wrenching given their previously undeveloped personalities. To top it all off, the production clocked in at a mere 90 minutes with no intermission, making it an astoundingly skimpy show limited on satisfaction.