Cannibal Corpse bring their hardcore music
back to Buffalo for a hometown show
Cannibal Corpse/ Morbid Angel/ Necrot/ Blood Incantation
Town Ballroom
Buffalo, NY
March 6, 2019
| | | |
| --- | --- | --- |
| Morbid Angel | Cannibal Corpse | Necrot |
Review and photos by Johnny Hall

Buffalo born Cannibal Corpse made a hometown stop for their current tour on March 8th at the Town Ballroom in Buffalo, NY. Forming in 1988 Cannibal Corpse, who are known for their brutal approach to death metal, brought other heavyweight players from the genre; Morbid Angel with Necrot and Blood Incantation in tow to help combat the frigid Upstate NY weather.

The show started with Blood Incantation, a four piece group hailing from Denver, CO. Blood Incantation played a 30 minute set to the strengthening crowd. Their screaming vocals and atonal music gave a glimpse of what was to come.

Necrot was next up on the bill. The death metal/ hardcore punk band trio does not lack in sound. They filled the room with their Oakland version of death metal to the delight of assembling fans.

Next on the roster was Morbid Angel. Forming in 1984, the band has become iconic in the metal scene. Trey Azagthoth, the only founding member, is the mastermind behind the Morbid Angel sound. Steven Tucker is the voice of Morbid Angel as well as the band's bass guitarist. Scott Fuller is the man behind the drum kit filling out the hard pounding rhythm section. Second guitar duties on stage right were held down by the riff machine Dan Vadim Von, whose speed is second to none. After playing for close to 45 minutes the already frenzied crowd was ready for Cannibal Corpse.

Cannibal Corpse are giants of the death metal scene. Formed in Buffalo, NY in 1988 by Bassist Alex Webster and drummer Paul Mazurkiewicz, these two remain the only constant members. Now calling Tampa Florida homebase, the powerful group has Eric Rutan taking the reins on lead guitar and Rob Barrett on the rhythm guitar. The frontman for the band is George "Corpsegrinder" Fisher, a colossal presence who commands the stage with his instantly recognizable growl. The band played a massive 15 song set with Corpsegrinder often talking with the crowd. The packed ballroom was filled with head banging hair thrashing hardcore fans sweating and growling along on the windy and cold Buffalo night. Cannibal Corpse proved through their bone crushing performance they are the kings of death metal and aim to keep their crown.
Related articles:
Soulfly / Morbid Angel - Concert review - Milwaukee, WI February 2005
| | | |
| --- | --- | --- |
| Cannibal Corpse | Cannibal Corpse | Cannibal Corpse |
| | | |
| --- | --- | --- |
| Cannibal Corpse | Morbid Angel | Cannibal Corpse |
| | |
| --- | --- |
| Morbid Angel | Cannibal Corpse |
| | | |
| --- | --- | --- |
| Necrot | Morbid Angel | Necrot |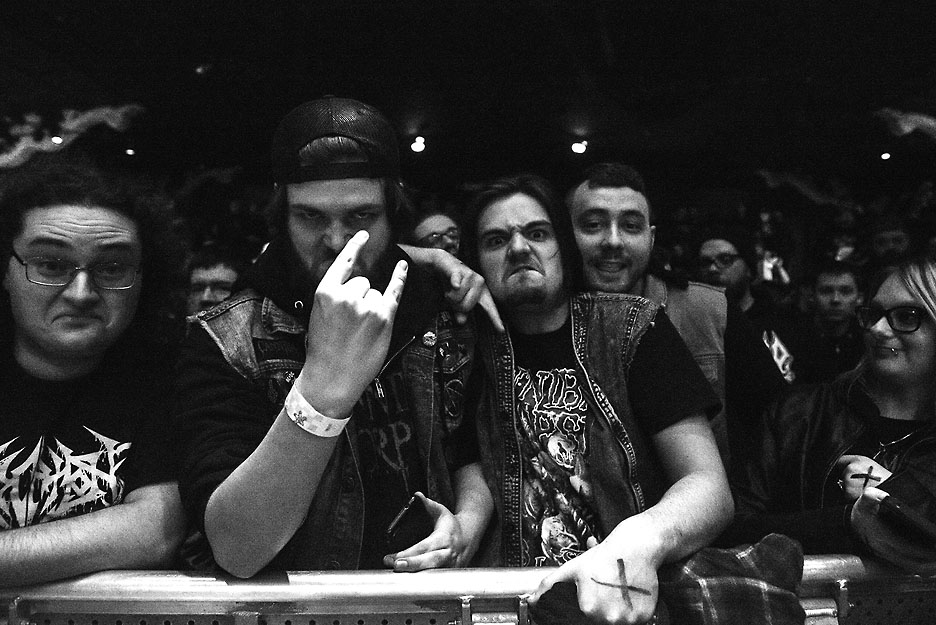 Corpse fans
| | | |
| --- | --- | --- |
| Blood Incantation | Blood Incantation | Blood Incantation |
Return to Reviews
Return to Livewire
Copyright © ConcertLivewire.com™; All Rights Reserved