Story and photo of Travis Tritt by Robin Mayer
Photos of Trace Adkins & Tracy Lawrence by Terry Mayer
All other photos by Phil Bonyata

Country Thunder took over the Shadow Ranch in Twin Lakes for four days this past week, giving country music fans a rollicking weekend of big name country acts and varying weather. The theme of the weekend appeared to be "A lot of country with a little bit rock and roll".

Organizers started the music festival with a rumble on Wednesday night with three of country music's biggest names.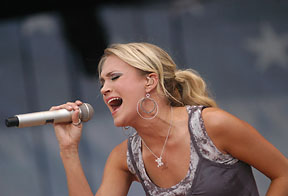 Carrie Underwood, winner of the 2005 American Idol, began her appearance on Tuesday with at least two Underwood sightings in Lake Geneva that included dinner at a local eatery and a viewing of "Pirates of the Caribbean". Underwood peppered Wednesday's show with cuts from her current release Some Hearts including a melancholy acoustic version of "Don't Forget To Remember Me" that was dedicated to all the mothers and daughters in the audience. She also included a few surprises with renditions of rock band Guns n Roses hits "Patience" and "Sweet Child O' Mine" complete with a scarf tied to her microphone a la Steven Tyler of Aerosmith. It is obvious that she is new to the business of performing and just a little uncomfortable with the banter that goes into a live performance. Several awkward comments including an apology about the state of her hair exposed her newness to the stage. However, Underwood has a fine, strong voice that translates well in either country or rock.

While they may be the same age, it is obvious that LeAnn Rimes is the performance veteran over Underwood.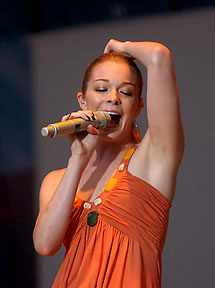 Rimes opened her show with a cut from her latest album This Woman, the much played "Something's Gotta Give" and there was no indication that she was recovering from recent minor leg surgery. Rimes was energetic, strutting up and down the Country Thunder runway, interacting with her guitarist and entertaining the crowd. Her dynamic voice has matured to a rich, full sound which was evident on her performance of her very first hit "Blue." She also sang a hot, bluesy version of Gershwin's "Summertime" that was complemented by guitar riffs reminiscent of the late Stevie Ray Vaughn. Not to be outdone by Underwood's foray into the rock 'n roll arena, Rimes closed her show with Jefferson Airplane's "Somebody to Love," bringing her audience to their feet in spite of the high humidity and heat.

Newlywed Keith Urban finished off Wednesday night's line-up, opening with "Days Go By" from the double platinum album Be Here.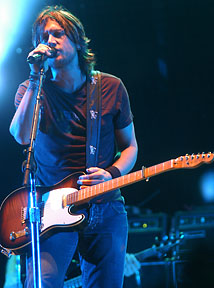 He beat the threatening rain to the punch, performing "Raining on Sunday", promising everyone "If it rains, there's gonna be a helluva baptism tonight!" The rain held out for awhile however, giving Urban time to treat his audience to some guitar solos heralding his rock roots as a youngster. Then, thanking everyone for the "enormous amounts of congratulations" on his recent nuptials to Nicole Kidman, Urban launched into "You're My Better Half" while the audience sang and danced on their chairs. But the smoothest transition came as the rain finally began to fall and Urban's band segued into Creedence Clearwater Revival's "Have You Ever Seen The Rain" to the appreciative roars of a rain soaked crowd.

Gretchen Wilson was "Here For The Party" and Big and Rich were "Comin' To Your City" on Thursday night at Country Thunder. Ms. Wilson followed up her debut album Here For The Party with 2005's Grammy nominated album All Jacked Up. The crowd sang every word to the opening song "Here For The Party" and continued to sing enthusiastically throughout the show.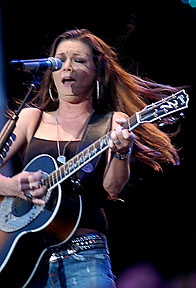 "Politically Uncorrect" which was recorded with country legend Merle Haggard for the All Jacked Up album, was dedicated to Haggard for Thursday night's show. Again, the rock and roll influence was evident when Wilson and her band jumped into "Barracuda" originally recorded by Heart. Ann Wilson, lead singer of Heart, was eerily channeled through Gretchen Wilson's voice and if you closed your eyes, you could swear you were hearing Ann. "Barracuda" was followed with Led Zeppelin's "Rock and Roll" allowing Wilson to tear up the stage. She saved her two biggest hits for the end of her show closing with "All Jacked Up" and performing "Redneck Woman" for her encore, leaving her audience on their feet with tired voices.

Big and Rich was probably the biggest disappointment of the four days. Although they had a full house, lawn and reserved, they brought their audience a show that could have been last year's show verbatim. From the set design to the song choices and order, it was deja vu. They opened their show with "Comin' To Your City" and included their usual hits. The audience was dancing, singing and yelling, but, it would have been nice if they had included some surprises. We know that they can rock 'n roll but can they do country?

Country was in the house on Friday night with the appearance of Trisha Yearwood who proved that she is not just Mrs. Garth Brooks.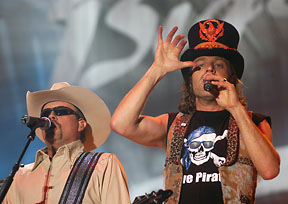 With the release of her first album in four years, Ms. Yearwood had a wealth of new material to perform along with 15 years of hits. The haunting "Who Invented The Wheel" from the new album Jasper County is a perfect vehicle for her smooth, melancholy alto voice. Yearwood is a talented and gracious performer. When not singing, she had conversations with the audience, telling little snippets of stories that made one feel as if they were sitting with Yearwood at her kitchen table drinking a cup of coffee. Welcoming the coolness of the Wisconsin night, she joked that it was 104 degrees in Oklahoma, the A/C was out and she left Mr. Brooks at home to fix it and maybe even do a load of laundry. "He's a husband now...and retired. He's supposed to do those things!" she laughed. The entire audience voiced their approval when she sang her first single ever released and young and old knew the words to "She's In Love With The Boy." Yearwood is a storyteller whether with music or conversation and Friday's audience enjoyed her stories.

The final day of Country Thunder was met with rain and thunderstorms later in the day but Saturday night's all-star line-up took it in stride. Tracy Lawrence took the stage almost two hours late and reminded everyone that true country still is popular. He performed selections from his new album Then and Now: The Hits Collection including "Time Marches On," closing with "Paint Me A Birmingham." Although Lawrence wasn't all over the stage, his performance was heartfelt and true. Set crews began to make up the rain delay and Trace Adkins took the stage only about an hour late.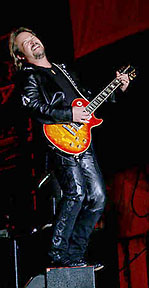 Opening with the title cut from his latest album Songs About Me, the big man of country gyrated and swayed his way through an hour and a half set of music that included "This Ain't No Thinkin' Thing" and other hits from his catalog. Acknowledging the muddy aftermath of the afternoon's storms, Adkins expressed a desire to join partygoers sliding down the muddy hills that dotted the Country Thunder landscape. He charged up the audience with a soon to be released single "Take Me Out To The Ballgame." Audience members were no longer thinking about being wet and cold by the time Adkins finished his show.

And then it was time for the final act of the festival. Travis Tritt hit the stage with an explosive energy that consumed the crowd. Blasting onto the stage with the 1990's hit "Put Some Drive In Your Country," Tritt was all over the stage and then some, jumping on amps and strutting his stuff. Tritt brought an already ramped up crowd even higher and not a seat was sitting in a chair throughout his show. "I'm in Twin Lakes tonight to party" he exclaimed before launching into the country charged "The Whiskey Ain't Workin'." It was a perfect party to end a full four days of country music.

Other than the acts that performed, it is worth noting that this year's Country Thunder was the most organized it has ever been. Surrounding communities were not subjected to the traffic and general disarray as they had in the past. Entrances to parking moved along quickly and general bad behavior did not seem to trickle out of the festival area. And although the weather was not always agreeable, the crowds enjoyed four fine days of country music, camping and camaraderie.