Unclassifiable piano pounder jumps
beyond jazz
Jamie Cullum
Irving Plaza
New York, NY
Oct. 17, 2004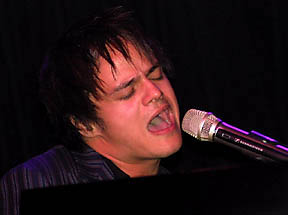 Story and Photos By Andy Argyrakis

He may play the piano and be affluent in jazz composition, but don't compare this cat to Harry Connick Jr. Sure he can write storybook songs and have personality in a project, but this ain't no Billy Joel. When it comes to wittiness and tinkling talent, perhaps the most accurate point of reference would be Ben Folds, but the bottom line truth is Jamie Cullum cannot be classified. The twenty-four year old has ridden high on countless UK critic's lists and album charts for the last year, but it wasn't until this spring when Verve picked up the player for distribution in America. His official debut Twentysomething is a mixture of originals with some of the most unexpected cover combinations ever imaginable, but no matter what was performed in concert, followers at the sold out Irving Plaza squealed with delight.
Cullum demonstrated his role as a piano prodigy from early numbers like "Twentysomething" and "All At Sea," all of which were steeped in free form jazz improvisation with a delectable disposition towards pop radio. But trying to pinpoint the remainder of the set was virtually impossible as Cullum gave treatments of everyone from Jimi Hendrix to Radiohead to show tunes slapped with his spunky personality. Hendrix's "The Wind Cries Mary" abandoned the legend's gargantuan guitar solos in favor of detailed key primping, complete with rustling percussion and a slick stand-up bass wallop. Even more surprising was a blending of Radiohead's "High and Dry" with the standard "Singin' In the Rain," which on paper seems incredibly irreverent, but was shockingly spliced together with remarkable congruency.
The youngster also made sure to introduce attendees that were around his age to classic artists like Cole Porter, which came via a modernized take "I Get A Kick Out Of You." In keeping with the immeasurable degree of randomness, Cullum kicked the disco out of the dud "Everlasting Love," giving it a soulful strut and a prideful chuckle. Add in some sporadic scatting, lots of instrumental fusion and flourishes, along with clockwork band cohesion and this twentysomething (no pun intended) is a stateside star in the making ready to soar.


Here's Your Chance to.... Respond!


Your feedback will be featured on
Rant or Rave within 24 hours.