Story by Phil Bonyata
Photos by Karen Bondowski

Saddle Creek artists Cursive mix a wide range of explosive instrumentation, deeply personal and dynamic songcraft along with lyrics that challenge conviction. Lead singer and guitarist Tim Kasher, Matt Maginn (bass, vocals), Clint Schnase (drums) and Ted Stevens (guitar) form the nucleus of this brutally original band.

Cursive brought their art along with their attitude to the Pabst Theatre on Monday night.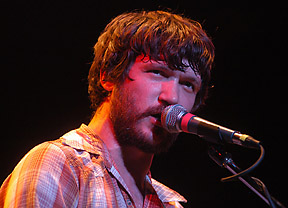 Opening with "A Gentleman Caller" off of The Ugly Organ - the song started out with loud and searing vocals along side a savage guitar attack and then morphed into an orchestral melee. "Making Friends and Acquaintances" of 2000's Domestica played off the dynamic and jagged guitars along with Kasher's howling vocals. Kasher's delivery goes from one wry and confidently introspective delivery and then fires into a personal catharsis as he screams his demons out.

"So-So Gigilo" and "Big Bang," both off of their latest release Happy Hollow, both played out as melodic and dissonant swells of sound. On "The Recluse" the instrumentation of the 8 piece band was beautifully flawless and pristine. "Art Is Hard" exploded with some boisterous rhythm guitars layered just under Kasher's intense lyrics ("Cut it out- your self-inflicted pain / is getting too routine / the crowds are catching on / to the self-inflicted song") fell heavily on the intense following in the house that night. The only thing that was lacking is that the cello was underplayed and essentially got lost throughout most of the song. "Sierra" was rife with a bleak beauty about a very personal upheavel in Kasher's life when his wife and daughter left him. The pounding drums and cascading guitars played havoc with the crescendos, as Kasher screamed her name at full force still hoping ...while understanding the futility.

Closing out the fiery set were the muscular and fried crisp blues of "Casuality" and the horn-laced swagger of "Hymns for the Heathen." While Cursive's angst might seem great - it's the honest retelling by the wounded that makes their art so admirable.