Story and photos by The Bon Bons

Indie darlings and Seattle natives Death Cab for Cutie opened their set with "405" off of 2000's We Have the Facts and We're Voting Yes. Lead vocalist Ben Gibbard sung the harmonies with a winking eye sentimentality. His vocals were married nicely to the energized and intricate playing from guitarist Chris Walla and bassist Nick Harmer. Gibbard, swaying from side to side in ubiquitous fashion, has picked up the concept that indie bands don't all have to be shoegazers as proven by his sometimes manic handling of his guitar on "The New Year" and "Lightness" both from 2003's Transatlanticism. Gibbard turned these songs into an open duality with his strange and alluring voice competing for top spot over his chaotic stage musings.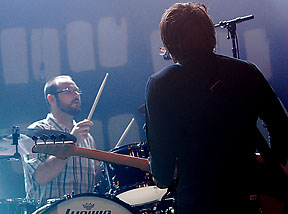 "Title and Registration" was a beautiful tapestry of harmony and melody. While "Crooked Teeth" and "Brothers on a Hotel Bed" corrupted the Eagles Ballroom cavernous hall and bad acoustics with clarity and textured richness.

While the band's music is founded in intelligent, emotionally sonic lyrics and guitar driven indie-pop - Death Cab for Cutie seems ready to step out into a world of more daring and experimental music as witnessed by the swirling orchestral beauty of "We Looked Like Giants." Gibbard took a confident seat behind his drum kit and started the tempo as the band fired back in quick and swirling flurries of sonic sound. The audience appreciated the strange beauty of the song and let the band know it's approval by it's roaring applause. Death Cab for Cutie's encore consisted of self confident and energetic renditions of "I Will Follow You in the Dark," "Marching Bands of Manhattan," "I'm Going Home" and a beautifully complex "The Sound of Settling." Is the band poised on breaking into superstardom or continue it's new challenge of it's own musical conventions and branch out into territories of sound where far fewer listeners dare to reside.

Chicago boys and power pop maestros OK Go did a bang-up job of opening for Death Cab. They started off with a choppy but entirely enjoyable "Television." Lead singer and guitarist Damian Kulash put the muscular vocals behind the hard-hitting songs "Don't Ask Me" and "No Sign." Ok Go's music is a melange of pop a- z. They brew a mean stew of sinewy synthesizer, buttery harmonies and power pulse guitars. Other numbers of merit were "Here It Goes Again," "Don't Bring Me Down" and the infectious chorus of "Get Over It." Don't tell that to the audience though - the vast majority went through the whole show basically stone-faced and utterly quiet (quite a shame actually as Ok Go put on a fun and delightfully spirited show) that is until the roadies cleared the stage and the band lit into their encore and the song that put them on the map - "Million Ways to Be Cruel" As soon as OK Go started to perform their quirky and very charming dance routine (exactly like their famous video) the audience erupted into what could only be compared to an early Beatles concert where the high pitch of all the girls' screams were deafening. A shame really that the You Tube generation relies more on the visuals than the actual sound.