Story and photos by Brad Walseth

If you missed out on Delfeayo Marsalis' shows at Hot House last night you missed an opportunity to enjoy an intimate evening in a beautiful, comfortable club with the talented trombonist and his first-rate band. Playing for a light, yet appreciative crowd, Marsalis and his bandmates put on an enjoyable late set that was a example of how great a night out at a jazz club in Chicago can be.

Opening up with "Autumn Leaves" (In January!) - dedicated to Al Gore - Delfeayo displayed his rich, buttery sound and command of his instrument to full effect. Not only a graceful master performer himself, the artist showed great taste in his song selection and choice of talented sidemen; and the leader felt confident enough to allow his band members plenty of room to show their stuff.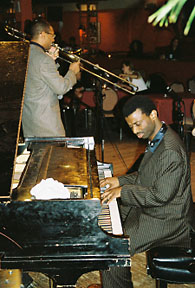 Chicago's own young up-and-coming jazz pianist Anthony Wonsey in particular took full opportunity to express his impressive abilities through his animated, inventive solos which delighted the crowd to no end.

An exceptionally fine version of John Coltrane's Impressions" gave young tenor star Mark Shim his moments to shine and his dark tone and angular riffs proved he is an artist in "Trane"-ing to be one the best saxophonists of the next generation. Even younger still - drum prodigy Jeffrey Fajardo handled the Elvin Jones drum parts with youthful vigor and skill far above his age. Bassist David Pulphus - perhaps the heavyweight champion of acoustic bassists - brought a strong, forceful sound to bear, while percussionist "Dirty Red" added his special touch to the proceedings.

Special guest artist, SIU Professor and jazz bassist Phillip Brown played the second half of the set with his former bandmate Marsalis - beginning with a delighfully charming duet on Duke Elington's "Sophisticated Lady" - and showed considerable skill in the bass chair. But a version of Duke's "Just Squeeze Me (But Please Don't Tease Me)" - which Delfeayo covers on his latest recording "Minion's Dominion" may have been the true highlight - with Marsalis muting his trombone and getting a tone gorgeous enough to make a listener nearly weep.

The artist and band finished up this night steeped in classically traditional jazz music with a final Duke Ellington tune. As Delfeayo explained - in the 30's horns in bands had to soud like singers of they couldn't get gigs. Duke Ellington changed that by making the singers copy the horns on "It Don't Mean A Thing, If It Don't Got That Swing." And swing they did.

Check out great Chicago jazz happenings at JazzChicago.net