Story by Tony Bonyata
Photos by Phil Bonyata

  Just hours after a major power outage threatened to pull the plug on the opening evening of the world's largest music festival last Thursday, the power not only resumed at Milwaukee's Summerfest but got kicked into overdrive with a rousing performance from new wave/punk legend Elvis Costello and New Orleans musical institution, Allen Toussaint.

With Costello, clad in black western jacket, dark shades and patchy stubble, on various acoustic and electric guitars and the crisply-suited Toussaint seated behind his sprawling black grand piano, the two legends delivered a spirited show that showcased some of their most beloved solo material (Toussaint's "Workin' In A Coalmine" along with Costello's "(What's So Funny 'Bout) Peace, Love and Understanding," "Allison," "Watching The Detectives" and "Pump It Up").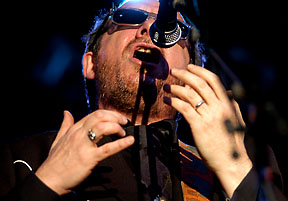 And while these favorites fueled the tightly packed audience at this festival side-stage, it was some of the newer material from their latest collaborative album The River in Reverse that seemed not only timely - being conceived by the duo following the tragedy of Hurricane Katrina last fall - but uplifting and riveting as well.

Backed by Costello's band The Imposters, along with the spicy four-piece Crescent City Horn section, Costello and Toussaint tore through the soulful swing of "Broken Promise Land," the New Orleans-flavored R&B of "Tears, Tears and More Tears" and "International Echo," which, with Toussaint's fluid keys, resonanted with a broad sense of hope and optimism. The two also unveiled the beautiful balladry of "Freedom for the Stallion" as well as the spiked poignancy of the album's title track, "The River in Reverse."

While the recovery and rebuilding of the battered city of New Orleans has been painfully slow, the love letter that Costello and Toussaint have produced and are taking on the road proves that not only these talents, but other Crescent City musicians who are touring the nation to help gain recognition for their city's plight, such as The Neville Brothers, Dr. John, and The Preservation Hall Band, aren't about to go down without a fight.