Story and photos by Matt Schwenke

As a pioneer of emo in the 90's with the Seattle-based band Sunny Day Real Estate, Jeremy Enigk will always be tabbed as a member of that influential and storied band, but amidst the break-ups, reunions, and amalgamations, he has managed to release his second solo release World Waits -- a decade after Return of the Frog Queen-- and appears rather comfortable with his new outfit.

Enigk, braced by the vinylesque low-end warmth of bassist Joe Skyward and drummer Kaanan Tupper and the hi-fi precision of keyboardist Josh Myers and guitarist Billy Dolan,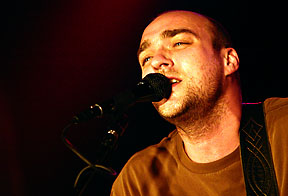 conjured up the dense emo fog found in SDRE material but also provided a stronger sense of clarity-- not so much by rising above but rather finding a path through-- in the form of emotionally teetering vocals and swells that held enough grit to keep from being disgustingly saccharine or dressed in exaggerated importance.

From his 1996 solo effort, Enigk and company opened with the catchy and trancing waltz of "Abegail Anne," and later turned things completely upside down in "Carnival," with Myers providing the deranged organ sounds and full accompaniment of synth strings. From yet another creative outlet, Enigk also culled from his score to the 2002 film "United States of Leland," with his unique voice and phrasing taking first chair in "Set It On Fire." From the new album, "Been Here Before" and "Canons" were openly doused in the vocal stylings of Peter Gabriel, while "Damien Dreams," a tune written for Seattle indie folkster Damien Jurado, dabbled in the progressive rock undertones of Sigur Ros. Often providing the grit, Enigk's voice at times bordered an Irish whiskey tone while somehow remaining distinctly American, and perhaps as an homage, another notable of the set included a take on U2's "Running to Stand Still."

Garnering much applause throughout the show, Enigk seemed to appease those most interested in his SDRE roots while still stepping out far enough from that tree to give a fresh apple for the crowd to chew on, well after the encore.