Enrique on his way out
Enrique Iglesias
Arie Crown Theater
Chicago, IL
Feb. 19, 2004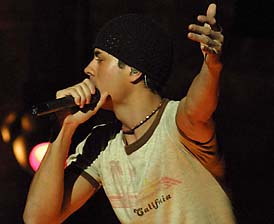 Enrique Iglesias
Story and Photos By Andy Argyrakis

On record, Latin lover Enrique Iglesias is the epitome of delectable pop relayed through candy coated rhythmic dance numbers, arena rock inspired antics, and towering monster ballads. Such a concoction may have landed him on both Latin and crossover radio over a seven-album span, but the constant switching to those somewhat disposable and quite possibly studio manufactured contexts leaves the good looker lacking credibility. A concert environment would be Iglesias' true test to see if he's more than a pre-packaged fad of the minute or an enduring artist like his father Julio, whose shadow he tries so desperately to avoid.
As much as I would have hoped for the latter instance, the sexy star's latest concert tour behind new album Seven hinted that it's only a matter of time before his bright light burns out (at least here in the states), sort of in the same way Ricky Martin and Marc Anthony have slowly fizzled into non-recognition. The reasons for this disappointing observation are two fold - first being Iglesias' relying on the slick performance of the hired band hands around him to make up for his vocal missteps, and second, for his super charged sensuality that reduced him to a lust inducing male version of J-Lo.
Given the calculated beat blasts and most likely studio enhanced vocals of past smashes like "Escape" and "Be With You," it was very hard to reproduce the same sugary feel on stage, where Iglesias' weakened whimpers were instantly drowned out by the bass thumps. Most likely realizing this fault was obvious, the headliner over compensated by flaunting his dashing looks, striking for poses and picking up roses nearly ever stride of the night. That posturing continued on the scintillating salsa of "Bailamos," the sultry hustle of "Be With You," the crispy crowd chanter "Addicted," and the out of place Depeche Mode cover "Just Can't Get Enough"- all points where his sensuality reached proportions of gargantuan ridiculousness. Besides audience overflow into the aisles throughout those rump shakers, the ballads also gave Iglesias an excuse to strut his stuff, while also revealing just how limited his range could be after an hour of prancing and parading. "Hero" was perhaps the most painful of the evening, which not only dripped with incessant sap, but relied on the same old romantic clichÈs Enrique has re-recycled his entire career.
Despite all that negativity Iglesias incurred, at least his dedicated army seemed to enjoy themselves. For whatever reason, being in the presence of their hero was enough to cover up any incompetence and inconsistency brought about by the critically irrelevant set. Plus, to Iglesias' credit, he seemed thoroughly grateful and genuine with his appreciation for fans' support over the years, even to the point of indulging them with over 90 minutes of non-stop stage time. For those like myself, this became like an unfair torture mechanism, but at least the abounding smiles around me got enough of whatever it was they paid to see.


Here's Your Chance to.... Respond!


Your feedback will be featured on
Rant or Rave within 24 hours.