Story and photos by Andy Argyrakis

Anyone who's followed the career of John Ondrasik (better known by his stage alias Five For Fighting) will probably agree he's put out a mixed bag of hits and misses across four full-length albums. The singer/songwriter found instant acclaim with 2000's breakthrough America Town (thanks in part to the single "Superman" used as a September 11th anthem) though its 2004 follow-up The Battle For Everything was brooding with boredom and banal arrangements.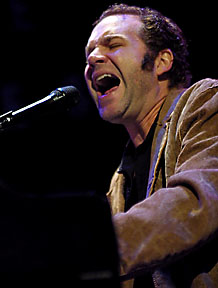 This year's Two Lights falls somewhere in the middle of the two, occasionally leaning towards progressive piano pop, but often dipping down to pedestrian adult contemporary levels.

Ondrasik was joined by a backing band during his most recent trip through town, which despite being finely tuned, rarely took any risks in a generally sterile set. The mood was reflective early on with cuts like "Freedom Never Cries" and the current single "The Riddle," two easy going breezes that could've been cool in a coffeehouse setting but didn't exactly hold the attention of the nearly sold out House of Blues. Throughout those mid-tempo tunes, along with ballads like "Jainy" and "Superman (It's Not Easy)," Ondrasik seemed forced in reaching for the high notes, sounding especially strained come the latter smash when the audience almost overpowered him.

That radio hit, along with the sappy "100 Years," proved that Five For Fighting has a serious following despite not exactly walking on the wild side. Even so, there were still a few glimpses of greatness come the set's sole rockers "Easy Tonight" and "Policeman's Xmas Party." During these Ondrasik was much more comfortable pounding on his keys and reaching range, while leaving room for his players to display liveliness beyond their otherwise lackadaisical playing. These pair of prizes hearkened back to old school Elton John or Billy Joel, while likely appealing to Ben Folds or David Gray supporters, though there's still a long road ahead given several sleepy show selections and an inconsistent catalogue.

No one paid any attention to opener Gary Jules and it's a shame considering his capable song craft, comical storytelling and vibey guitar strums. The independent artist is especially favored in England where his cover of Tears For Fears' "Mad World" topped the charts and raised him to a household name. In America the single was also accepted for a short time and sent a small ripple of silence through the chit-chatty crowd given its chilling and compelling acoustic reworking. The reminder of his 40-minute set evoked classic Paul Simon meets a less introspective Cat Stevens, positioning Jules closer to the target than his headliner.