Story and photos Matt Schwenke

With half-empty cups of beer flying round the room and the crowd chanting the "Ole" soccer thing, Flogging Molly took the stage with their two-fisted mix of traditional Irish folk sounds and punk, and turned the Rave into a friendly but rowdy pub.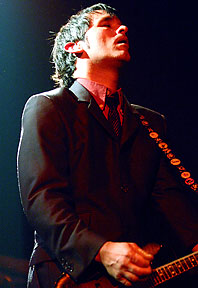 Dublin native and frontman Dave King lead the surge of constant energy with his animated delivery of vocals and guitar while the band swirled about behind him-- Dennis Casey on guitar, Matt Hensley on accordion, Nathan Maxwell on bass and Robert Schmidt on mandolin and banjo shared the stage like barstools on a busy night in a pub. Naturally fixed in his position, drummer George Schwindt kept control of the fast pace all night while fiddler Bridget Regan seemed to be the only one reserved by disposition-- her fiddling, backup vocals and use of whistles and pipes, however, added the extra element that melded the fiery punk with the haunting traditional sounds.

Standouts from the evening included "Selfish Man" and "Life in a Tenement Square" off the the groups early release Swagger , both featuring King's biting vocals. "Rebels of the Sacred Heart" featured the crowd chanting along while the most telling tune of the evening was the decidedly half-paced strut of "Factory Girls," off of the band's latest release Within a Mile of Home, that featured King and Regan singing softly over a warm blend of traditional Irish sounds-- a beautiful, beer-tinged mix of folk and punk.