Story and photos by Phil Bonyata

Seminal Irish punk band The Pogues influence is far greater today than when they were creating their uniquely Irish folk/punk sound back in the late '80s. From The Tossers, The Dropkick Murphys and Flogging Molly - the Pogues sound is assured new life as well as a new voice.

Flogging Molly played Summerfest's Brigg's & Stratton stage at Summerfest to a packed audience of mostly 18 - 25 year old rabid fans. Hailing from Los Angeles (about as far away from Ireland as one could imagine) the seven-piece band (featuring mandolin, banjo, accordion and violin while grounded with traditional bass, guitars and drums) lit into a frenzied assault to the senses with their textured, yet chaotic layers of melody and chorus.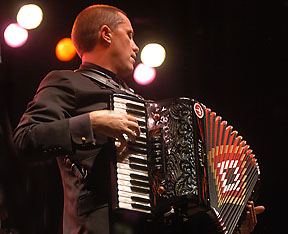 Their Irish heavy-hearted storytelling make for some confident, barn-burning punk rock. Dublin-born singer / guitarist Dave King masters the stage as well as the music with his rough-hewn voice and choppy guitar hooks and Chuck berry like stage strut. The sound of violin and banjo were spinning at a furious pace on songs like "The Likes of You Again" and "Delilah." When Flogging Molly's tempos slow down the audience sing along with the band as if everyone was arm in arm at a pub in the wee hours somewhere in Ireland. The band thrives on only two speeds - fast and slow - nothing mid-tempo for this group of rabble-rousers.

"Drunken Lullaby" got the jigging moshers into a lather (as if the ghost of Shane MacGowan - no he's not dead yet - was smiling down from his bar stool somewhere in London) as the band got the closest to The Pogues magic here. Other standouts from the raucous 90 minute set were "The Kilburn High Road" and "Rebels of the Sacred Heart."