Story and photos by Andy Argyrakis

Regular Foreigner concertgoers are usually used to seeing Lou Gramm fronting the band, but since he's stepped aside for a solo career yet again, the powerhouse vocalist was no where to be found. Instead founding guitarist, George Harrison session man and one time Spooky Tooth member Mick Jones has carried on the brand name with a sea of Foreigner album alums and additional hired guns. Though he's the only original member present and one time Hurricane singer Kelly Hansen now takes Gramm's place, the band's received quite a bit of attention since reforming in 2005 for an array of reasons. First of all, the re-tooled line-up just released the concert project Extended Versions (CMG), which gives the group's greatest hits a facelift as debuted on last year's tour.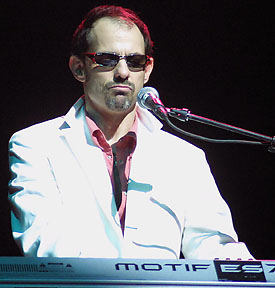 In addition, the original entity was recently showcased on the double disc The Definitive Collection(Rhino), which is a one stop shop for a career that spans an impressive thirty years. And lastly, in one of the most unique turn of events for what some would consider a group of washed up stadium statesmen, drummer extraordinaire Jason Bonham is now a member of the band. Not only has he been a highly sought after side man, but his last name is indeed linked to Led Zeppelin skin slapper John Bonham and he certainly follows in the footsteps of that famous father.

All that action is certainly more than Foreigner's found in the eleven years since its last official studio album and it all seemed to light a fire under a band often written off within the guilty pleasure annals of Journey and R.E.O Speedwagon. Though the half full house chattered with apprehension prior to the band's entrance, the first five seconds of "Double Vision" indicated this was indeed a familiar moniker with a completely refreshed purpose, which despite the absence of its most famous front man, offered many useful diversions. For starters, the rhythm section sounded rowdier than ever, draining all the sap and cheese out of the slickly produced albums for raw rock n' roll grit that saw Jones layering riffs atop Bonham's heavy handed thrusts. Surprisingly, this display was only a mere warm up of what was to come as "Head Games" and "Cold As Ice" transformed from oldie radio fair and sports bar regularity into shirt shaking anthems with remarkably aggressive execution.

Rather than trying to mimick Gramm note for note, Hansen should be applauded for reinterpreting most of the tunes within his own range and demeanor, which was reminiscent of a lower pitched Robert Plant colliding with a more melodic Steven Tyler.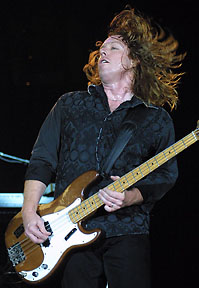 The singer even bore some physical and stage presence resemblance to the Aerosmith ring leader and was especially intense on "Feels Like the First Time" and "Urgent." "Juke Box Hero" was also an obvious set list choice, but it began unpredictably with a Bonham drum solo, followed by its signature electric strums. Half way through the tune, Jones switched his grinding gears all together and suddenly tipped his hat towards Jimmy Page with the licks to "Whole Lotta Love," after which Hansen dived right into the classic Led lyrics. Of course this was done as a tributary gesture to Bonham's late great father (who's arguably one of the greatest players to ever walk on earth), but the seasoned drumming similarities between the two were so uncanny that his ghost could've very well been smiling down upon Jason, along with those gathered at the gorgeous lakefront venue.

Unfortunately not all the moments were nearly as worthwhile, such as the love struck and somewhat sanitary ballad "Waiting For a Girl Like You." Not only has it been played to death by Jones and his rotating cast of band mates, but it hasn't weathered well with time and landed especially far from Hansen's rougher register. The same could be said about "I Want To Know What Love Is," which lacked the soul of Gramm's original vocals and was subject to a pathetic audience sing-a-long that symbolized every arena rock cliche in the book. Even so, there was still plenty to smile about in one of this season's most unexpected comebacks (at least partially) that left faithful wondering just what these musicians could churn out if they were locked inside a studio. While purists could never compare the recent tour with seeing Foreigner in its heyday, this version will do based on the circumstances and opens the door wider towards adventure than its been in at least a decade.