Story and photos Matt Schwenke

With a two-disc rarities collection set for release this month and a proper studio album, How We Operate, released earlier this year, Gomez brought a sound to the Pabst that has expanded far from their awkward 2004 release Split The Difference and, without losing their unique brew of rock and pop that made their first three albums stand out, look comfortable with their decidedly misty, mid-tempo sway.

"Love Is Better Than A Warm Trombone" got things chugging along early with the strained, bluesy and trademark vocals of guitarist Ben Ottewell.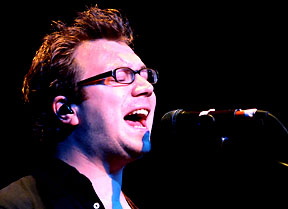 The new song "See The World" set a breezy pop scene over well-picked acoustic guitar, and the title track of the new album began with a folk sensibility that built into a double time jam with drummer Olly Peacock laying down double-bass drum poundings. "Notice" also had a dusty, folk feel but was augmented with synth strings and well-placed pauses.

Older material such as "Ping One Down" yielded irresistable harmonies between Ottewell and multi-instrumentalists Ian Ball and Tom Gray, as well as a strong bass grove from Paul Blackburn. "In Our Gun" set a mysterious Pink Floyd tone before droning guitars led into the heaviest part of the evening-- pushing the jam to the borders of industrial rock. And, the rarity tune "Blue Moon Rising" featured Ottewell with slide guitar, a flurry of percussion from Dajon Everett and the band in perfect harmony for its eerie chorus line.

While the band rotated around instruments much of the night, the most impressive display from the three vocalists came in their own solo performances. Early in the set, Gray donned an acoustic guitar for a version of "Sweet Virginia," and his voice took on an operatic feel in the tune that hinted of the Beatles but in a haunted way. Ball would later take to the stage alone, singing impassioned on "Charley Patton Songs" and playing his electric guitar in a string-strumming frenzy. Capping off the front-three talent, Ottewell opened the encore on stage alone for a stripped-down version of "Get Miles"-- the first tune on their first album and one in which Ottewell's voice shines.

Returning full band, Gomez pulled another tune from their early material, "Fill My Cup," to end the night, and with the chorus pounding to the crowd's delight, Gomez had delivered a show with impressive sonic range and left the glass half-full with their new directions.