Breaking the Circle
Hank Williams III
Shank Hall
Milwaukee, WI
March 21, 2002

Hank swingin' with his roots.

Review by Tony Bonyata
Photos by Phil Bonyata


His granddaddy would've been proud. But then again, so would Marilyn Manson.
Last night Hank Williams III (grandson of country legend Hank Williams and son of Hank Williams Jr.) turned the cozy confines of Shank Hall on it's head, when the deafening jackhammer of speed metal forced the blood of old school country down through the floorboards. While it seemed unfathomable for these two musical foes to make peace on the same stage, it was even more inconceivable to find it was from the same act.
When the pale and lanky Hank Williams III walked into the room, clad in black western jacket, dusty cowboy hat and long but neat ponytail, he might as well had been stepping onto the stage of the Grand Ole Opry. This, from the looks of it, was an honest to goodness singing cowboy standing proudly behind his old acoustic six-string.
Running through a healthy country set which showcased fine high-and-lonesome country numbers along with a holster-full of white trash, honky-tonk roof-raisers, the heavy influence of Hank Sr. was undeniable. With crisp, good looks and yodels alike mirroring his granddaddy, Hank III along with his Damn Band - fiddler Michael McCanless, drummer Joe Fazzio, steel guitar player Dan Johnson and upright bassist Jason Burns, spread their rootsy country sounds throughout the unusually mixed crowd of bikers, cowboys, greasers with D.A.'s, little gray-haired women, headbangers, punkers and frat boys.
Williams and company juiced this mixed-bag with raucous takes of "7 Months, 39 Days," "Trashville," "Nighttime Ramblin' Man" and the bluesy stride of "Mississippi Mud." But this hard-living, hard-drinking country boy also had the power of his late kin to pull a tear on the lonesome title track from his latest album "Broke, Lovesick & Driftin'," as well as "One Horse Town" and "Why Don't You Leave Me Alone."
Despite the fact that Hank III's music has skipped a generation, preferring the more earthy country twang of his grandfather to his father's more slickly produced, soulless modern country, he did include the number "Lovin' & Huggin'," which unfortunately sounded more like Bocephus than the real McCoy. Although many of Hank III's lyrics focus on central themes common throughout country music - drinking, lost love, drinking, loneliness and drinking - some of his songs from his live set, like the smoking blue number, "Dick in Dixie," where Hank declared that he's here to "put the dick back in Dixie, and cunt in Country," strongly hinted towards his obvious punk sensibilities.
Just as soon as the crowd started getting cozy under the warm blanket of this traditional country set, however, Hank along with his same band, who were now using the moniker Assjack, stripped back the covers and blow-torched the bed with a ferocious set filled with hardcore death metal, or, to be more appropriate, Hellbilly Metal. Not only was the music a mindbending juxtaposition of the earlier set, but Hank's own physical appearance seemed to have morphed from a cutting honky-tonk singer to Cousin It jacked-up on kitchen cleanser. With his cowboy hat nowhere in site, Williams came out with his black "666" t-shirt, whipping his long, stringy hair into a violent whirlpool as he thrashed his neck in time to the staccato metal power chords. It was a strange place for a fiddle, but McCanless seemed to be knocking at Old Scratch's door with his feverous, demonic playing. While there's no denying that Hank III's first set of old school country was in his blood, it was this punk/metal set that was apparently his true love.
"Will the circle be unbroken?," questioned so many of country music's purveyors throughout the last century. Despite paying homage to the honest country music made before him, Hank III answered that question with a devilish grin and a pair of chain cutters. Damn straight, it's gonna be broken.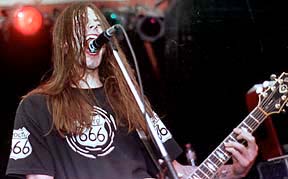 Hank tearin' away his roots.
Here's Your Chance to.... Respond!


Your feedback will be featured on
Rant or Rave within 24 hours.