Story and photos by The Bon Bons

Chicago natives Kill Hannah (whose name was born after a nasty breakup with lead singer Mat Devine's and his then college girlfriend, Hannah) played their annual Christmas show New Heart For X-Mas at the soldout Metro last Friday night. Rumor has it that Kill Hannah has played Chicago's legendary Metro more than any other band.

Setting the crowd's eager anticipation with the intro from their recent release Until There's Nothing Left of Us - the band slowly emerged from the fog drenched stage and opened with the blistery, "Boys and Girls" off of their 2003 release For Never & Ever.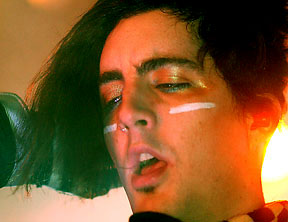 Thick electronics and infectious pop hooks balanced bravely with a musical soul based in the ideals of alternative music. "Believer" and "Lips Like Morphine" mixed like sex and candy on stage as Devine and guitarists Dan Wiese and Jonathan Radtke traded distinctly high pitched vocals for boisterous chords that resonated with a potent slingshot effect. "10 More Minutes With You" played out it's Qualude induced chorus and fuzzified guitars like a strung out junkie's cry for more heroin.

The stage set-up was all Christmas with colorfully lit trees, giant white stars, falling snow and Santa with some rather pretty elves throwing out candy canes to the crowd. Songs that also caught the band's penchant for creating a sound that are both unique and fresh were "Raining All the Time," "Crazy Angel," "Goodnight, Goodbye" and "Love You To Death." Devine's vocals sound dangerously feminine while changing to bold and aggressive when the moment calls. Paying homage to fellow Chicagoan and friend Billy Corgan, Kill Hannah played a monster take with it's slightly sped up and atomic version of The Smashing Pumpkin's "Cherub Rock." The extremely catchy "Kennedy" and it's memorable chorus had the audience in a grinding cavalcade of bodies. The guitars fired off salvos of screaming chords while bassist Greg Corner built a toxic foundation completely around them.

After a short break, only Mat Devine emerged onto the stage along with about 10 members of the audience to play a simple but effective acoustic version of the yuletide classic "I'll be Home For Christmas." "Nerve Gas" off of 1998's EP Stunt Pilots was also a highlight of the evening with every member of the band soaking in each other's sound and in turn each playing with inspired purpose. But the shining moment of the evening was clearly the brutal punk/metal of "Welcome To Chicago." Devine screamed the chorus "Welcome to Chicago, motherfucker" like a possessed evangelical preacher while the back breaking bass and drums collided with the attack of the searing guitars into a gorgeous display of what real rock music should sound like live.

Nashville boys The Pink Spiders style of fuzzy NY garage rock was the ideal opening act for Kill Hannah. The fast and furious clamor of their trashy guitars, simple and ornery drums and tin-can sound effects helped to solidify the band into an a mid '90s garage revival act. "Saturday Nite Riot" and "Little Razorblade" were effective on their own, but in the end the bands' attempts at trying to capture the retro garage sound in a new way mostly failed.