Review and photos by Frances Sealy

It is historical when two diverse entertainers manage to find each other and merge their musical talents into a single powerful entity. Ben Harper and Charlie Musselwhite have done just that and the result is pure blues magic. This was an incredible night of the blues.

Harper has proven over the years that he can expertly perform blues, reggae, folk, gospel, soul and rock music. His voice has the rich timbre reminiscent of early Cat Stevens. As a guitar player, his uniqueness is his gift. Harper is a three-time Grammy winner. One of the Grammys is for the 2005 album, Get Up!. That happens to be the first album he collaborated with Charlie Musselwhite.

Harper remains grounded in spite of all the accolades he has garnered. The show was a testimony of Harper's ability to levitate from everything around him and become absorbed in singing and playing his music. One could see him enter the spiritual realm and take the audience with him. The show started with a cover of The Beatles' "Yer Blues." It was the perfect opening for what was to come.

He was able to testify like a preacher at Sunday services. The song "I Don't Believe a Word You Say" was a fine example. Harper was later able to embrace and reveal his vulnerability with his vocals on songs like "I Ride at Dawn" and "When Love Is Not Enough."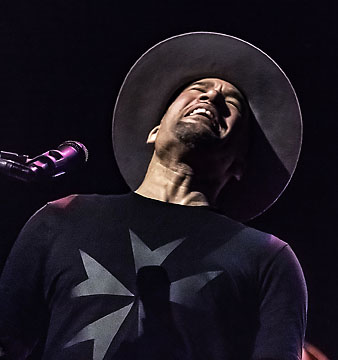 There is no denying that Charlie Musselwhite has established himself as a living blues legend. There are not many of the original blues legends left especially the harmonica masters. It was reported that Musselwhite was the inspiration for the Dan Aykroid character for the "The Blues Brothers" movie.

Musselwhite performed a couple vocals during the show including "I'm Going Home." His exuberant, rugged voice fits the music well. However, his harmonica weaves throughout the songs much like a vocalist and it seems effortless.

His lifelong friend John Lee Hooker introduced Musselwhite to Harper. It was instantly apparent that these two men had a blues connection. Harper remarked in a recent interview, "Charlie makes my blues indelible." That sums up the Harper/Musselwhite partnership.

It is amazing to experience such a group of talented musicians perform that respect each other and no one tries to upstage each other. It is even more amazing to have all of the same musicians present who created their most recent album, No Mercy in This Land in a live show.

Jason Mozersky's guitar on "I'm In I'm Out I'm Gone" gave a dramatic lilt to the song while drummer, Jimmy Paxson built on the passion of the song. Musselwhite's harmonica added an additional voice to the song.

Paxson gave a killer drum solo on "I Found the One." Mozersky's guitar on "Love Is Not Enough" weeps ever so gently. Jesse Ingalis bass particularly shined on "The Bottle Wins Again."

Harper wrote all the lyrics for the new album. He mentioned that the songs came from many different places. He summed up how the songs were written in a recent interview, "The way I've been writing as of late is that I bring the song lyrics to the players. I don't tell them what to play and they figure it out. I tell them the reason you are here is because you are brilliant. Write your part. Everybody contributes." Everyone is also credited for his contributions as writers.

Even though Harper and Musselwhite have made this alliance that creates new music, but ultimately the band never strays from traditional blues. That is why it works so well.

They covered "When the Levee Breaks," a Memphis Minnie and Joe McCoy cover with all the audacity and full throttle the tune deserves. The fans were chanting "No time, no time" with Harper by the end of the song. "Movin' On" was performed with the same intensity. The final song in the set was given in a barebones a capella style by Harper. With "All That Matters Now," Harper came to stand in front of the stage without a microphone and projected perfectly in a spotlight. Musselwhite's lone harmonica and a juke joint piano joined in. It could not have been more powerful.

This was some of the most incredible blues music made by any generation by musicians that bring out the best in each other. The music brings you comfort when you are down and it is your buddy when you are up. This is a show not to miss.