Story and Photos by Andy Argyrakis and Mike Kane

In an effort to compete with longtime festival staples such as Bonnaroo and Lollapalooza, New Orleans' annual Voodoo Music Experience expanded to three days and packed out the star power with a caravan of internationally recognized names and local legends. As a result, it clearly beat out Lolla's somewhat thin line-up and might have even overpowered Bonnaroo (had it not been for The Police's prominence). But no matter how it measured up to other American events, this year's Halloween weekend celebration was packed with action across all genres and a pair of reunions that found fans flocking from all across the globe just to catch a glimpse.

Heavy handed headliners:

Though originally supposed to be a few one offs (including a kick-off at Coachella earlier this year), Rage Against the Machine added a few fall shows to its books, including Friday's headlining slot. Though there's no denying the band's ability to blend just like it did back in the day,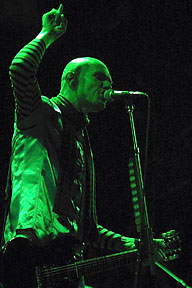 it seems the core foursome of Zack de la Rocha, Tom Morello, Tim Commerford and Brad Wilk gets tighter with each gig in the rebuilding process. As has been the case in previous concerts this year, Rage rocked from the get go with the bellying cries of "Testify" and "Bulls On Parade," moving through the attention demanding messages of "Bullet In the Head," "Wake Me, Freedom" and an inferno-filled finale of "Killing In the Name." Though it's unclear if this patchy tour schedule will lead to a studio visit, the live show recalled the band's storied career of practically inventing the merger of alternative rock and rap with political undertones, while maintaining a relevant, current events-focused perspective.

Despite once being as vital as these kings of the crop, Smashing Pumpkins is now a mere mockery of the iconic name that once stood for the unmistakable alt-rock electrification and experimentation of Billy Corgan, Jimmy Chamberlin, James Iha, D'arcy Wretzky. At this stage of its branding, the band is merely anchored by Zwan's nucleus Corgan and Chamberlin, plus the sea of competent but faceless background players Jeff Schroeder, Ginger Reyes and Lisa Harriton. Though the bald headed front man took the stage on Saturday as if he were still as supreme rock god, he was nothing more than the leader of a glorified cover band attempting to push lifeless new material from Zeitgeist and capitalizing on lackluster nostalgia ("Today," "Drown," "Tonight, Tonight") in a way die-hard fans would've never expected a mere seven years ago when the band broke up on the top of its game.

Consistently solid:

Even with Corgan and company's glaring flub, there were still plenty of worthwhile acts on the under card, including Sunday night's closers Wilco. The festival friendly band reworked its current Sky Blue Sky CD with much more muscular alt-country abandon, while the rough necked poetic prose of front man Jeff Tweedy sounded just as strong if not a hair sharper than this summer's Bonnaroo set.
Sinead O'Connor also seemed refined by her return to the road as of late, turning in a much too short but captivating hour that opened with full band romp "The Emperor's New Clothes" and continued with a handful of acoustic tracks from 2007's Theology. Even in gargantuan outdoor contexts, the singer's bold pipes resonated with intimacy, especially during her calling card "Nothing Compares 2 U."

Kings of Leon and Spoon were leaders of the indie rock pack and had some of the most sizeable early evening crowds of the entire weekend. In the case of the former, front man Caleb Followill recently chopped off his long flowing locks, while the band showcased an even leaner blend of ballsy guitars and Memphis soaked blues from Because of the Times. Spoon might not ever rival The Arcade Fire when it comes to visual appeal, but from a purely instrumental standpoint, sliced and diced its way through swelling strums, subtle electronics and atmospheric percussion rumbles.

Rap also peppered the bill in a few places, most notably Chicago rapper Common, who continues to fly high on the new Finding Forever CD (and continual collaborations with Kanye West). Like that famed fellow hometown producer, Common also takes a much more artistic approach to the genre than the standard shout-outs and beat boxes, instead relying on a full backing band, DJ and lyrical storytelling, such as "Testify," an anthem for anyone who's ever been stabbed in the back. M.I.A. also built upon rap and hip-hop flourishes, but added touches of Jamaican rhythms, carried out in the mantra-like call and response of the new single "Boyz."

Jammin' jambalaya:

The jam scene was aptly represented in a variety of formats, led by the hippie-infused but still productive snarls of The Black Crowes.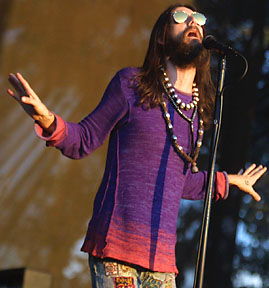 After hitting a bit of a dry spell at the start pf this decade and branching off into solo projects, the band is back to its rebellious, roots rockin' and hell raisin' form, turning in a remarkably fiery set stepped in dirty guitar battles and the howls of flamboyant front man Chris Robinson.

Ben Harper & the Innocent Criminals displayed its tried and true fusion of rock, soul and funk, especially turning up the heat on the reggae tipped "With My Own Two Hands." The sing-a-long called for personal empowerment and was one of the most uplifting examples of music uniting all cultures and creeds. Zap Mama may not have shared much musical commonality with Harper and his cronies, but provided an equally robust crossing of old school Afro-pop and cocktail lounge R&B. Toots & the Maytals turned up the temperatures even further with its sun soaked grooves and party infused stage show.

Progressive power:

Diversity was also spread through a handful of progressive rock bands, most notably British based rockers Porcupine Tree. Though the group's been astoundingly successful in its homeland since the early 1990s, a relatively recent singing with Atlantic Records led to even wider Stateside acclaim. The band unloaded tunes from 2007's Fear of a Blank Planet (many of which re-surface on the outtakes EP Nil Recurring) demonstrating a deft fusion of old school Rush and King Crimson with the style's current resurgence.

Though Coheed and Cambria doesn't hold the same amount of longevity, its fan base is also expanding extensively, possibly due to a headlining run on this summer's Vans Warped Tour, and even more recently, CMJ Music Marathon. But the band demonstrated much more depth than the watered down sounds Warped often over processes, falling somewhere between the schizophrenic sounds of The Mars Volta and the style's astute retro influences. Front man Claudio Sanchez also scored endurance points for braving the heat with his frizzy mass of hair that often flew in front of his face with even back breaking beat unfurled.

Teeny-bop time:

Fellow Warped mainstays Fall Out Boy reeled in the teenage crowd, but turned out to be remarkably fun for all ages. While the band's punk dichotomy leans much closer to modern mall roots than the early years of CBGB, it was impossible not to sing-along with the infectious, dance laden sweetness of "Sugar, We're Goin' Down," "This Ain't a Scene, It's An Arms Race" and a fairly fitting cover of The Killers' "Mr. Brightside." Current tour mates Gym Class Heroes also reeled in throngs of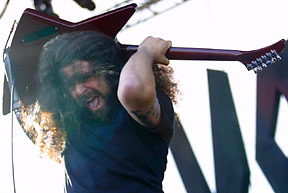 followers under twenty, though the band's blurring of rap, hip-hop and alternative rock was surprisingly contagious.

Not so hot:

Plain White T's may be on that same package tour, but the generic pop punkers failed to connect with nearly as much spunk or polish. Sure the band is flying high off the acoustically framed "Hey There Delilah," but other than that blip on the radar, has yet to fully develop beyond average status. Red Jumpsuit Apparatus possessed a bit more performance prowess, but its combination of surging power chords and screamo tendencies was nerve wrecking at best and absolutely grating at worst. And no amount of buzz behind Clap Your Hands Say Yeah could override its somewhat stagnant stage show, which consisted of spacey keyboards, choppy drums and the incongruent acoustic guitar/occasional harmonica combo from unsuspecting leader Alec Ounsworth.

Crescent City connections:

Thankfully when it came to New Orleans' treasures, Voodoo was piled high with several world class voices and players, including Ivan Neville's Dumpstaphunk, who turned in a funky gumbo of southern sounds. Soul belter Irma Thomas transformed the Preservation Hall stage into the close quarters of the club itself, especially during a sizzling version of Brenda Russell's contemporary jazz standard "Get Here." Yet the spirit of the city (and even the season) was summed up in the colorfully adorned Dr. John, who presented his signature blues and boogie woogie blasts. He may be best known for the smash "Right Place, Wrong Time," but the singer/piano player was perfectly placed as the event's closer, complete with several shakes of his most potent Cajun spices.