Story and photos by Matt Schwenke

Mix the piano-driven sonic gems of Kate Bush and Tori Amos, the voice of a diva, and the then-futuristic pop appeal of Cyndi Lauper, and you have come about as close as approximation will allow for the sound and style that is Imogen Heap.

Appearing at the Rave while still battling through bronchitis, the infection was only noticeable while chatting with the crowd between songs, and Heap's voice remained the focal point and most brilliant display in her show despite using a large assortment of synths, video feeds and other electronics to great effect.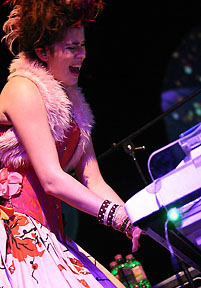 A grand entrance from the back of the venue to the stage while singing set the dramatic tone of the performance, while moments like giving the crowd a full inventory and quick demo of the equipment she was using and entertaining the crowd between song with friendly banter provided ballast against pretentiousness.

Most of the evening's tunes came from the 2005 release Speak For Yourself, with "Headlock," "Loose Ends," and "The Walk" representing the pop oddities and "Clear the Area," "Closing In," and "Just For Now" representing the deeper, more engaging creations. Offering up new material, "Turn It Down" featured Heap in a straight-ahead rock format. Mixing it up throughout the night with occasional accompaniment of guitar, bass, percussion and a beat-boxer for drums, Heap was haunting in a solo, encore performance of "Hide and Seek" --with the eerie electronica found in Laurie Anderson's "O Superman." With the band returning to the stage, Heap and company donned fashionable shades and turned out an almost industrial bounce in "Daylight Robbery."

Capping off the evening, Heap's delivery of breathy vocals and frantic piano lines in "The Moment I Said It" ended with a whispery 'goodbye." Announcing she wouldn't back in the States for some time, in order to record a new album, Heap's evolving sound is an indicator she will return to increasing applause.