Story by Brad Walseth
Photos by Phil Bonyata & Brad Walseth

In the recent animated release - "Over the Hedge," cute, furry animals confront encroaching suburbia and the evils of modern consumer society; this past weekend at Shadow Hill Ranch in lovely Twin Lakes Wisconsin, a different group of cute, furry animals resisted the same evils with the best weapon they have available: indie music!

Centered neatly between Chicago, Milwaukee and Madison, Twin Lakes is a pleasant little resort town on the Wisconsin/Illinois border with a quaint history.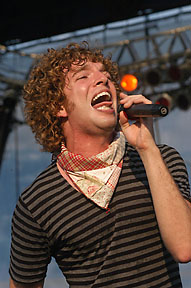 Lawrence Welk honeymooned here, celebs like Bill Murray summered here, John Prine sang about its beauty (mistakenly calling Lake Mary "Marie"), and thousands of Illinois residents remember when the drinking age was only 18 in Wisconsin - resulting in late night forays to the infamous, now-extinct Edgewater nightclub. Located in what used to be a corn field, a stone's throw from where local legend holds Ole Evenrude ... tired of his girlfriend's ice cream melting in his rowboat ... invented the outboard motor, Shadow Hill Ranch is the scene for winter snowmobile races and the Country Thunder music festival. Based on the overwhelming success of that annual hoedown, it was believed an alternative rock music and camping festival, featuring such artists as Flaming Lips, Hot Hot Heat, Kings of Leon, They Might Be Giants, Rusted Root and Primus (in their only concert appearance of the year) should succeed as well.

And it did succeed in many areas: the musical palette was colorful and wonderfully varied; and the initial showing made a name for itself by presenting quality acts, which should lead to further growth. Sparse crowds be damned - after all, Country Thunder took a few years to get going. The success of similar ventures across Europe and in America bodes well for the future, especially since Hedgpeth is the only indie music festival that allows camping on the grounds.

From opening act The Doomsday Social's youthful verve and drive, to grizzled Les Claypool and Primus' hallucinogenic, radioactive pulsation that nearly melted the Earth to end the fest Saturday night, the musical acts brought their all to their shows and then some; and for indie music fans the delight was nearly never ending. Cracking hot bands like Bottle of Justus, Aberdeen City, Ultrasonic Edukators, Stephen Kellogg & the Sixers, Phantom Planet, Anberlin, Black Angels and the Kentucky bourbon fueled The Apparitions treated audiences to their own deliciously twisted variations on the music we call rock and roll.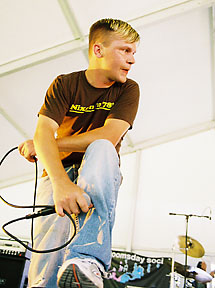 Meanwhile, for the curious and kooky, Nashville's the Biv showcased toy robots and prerecorded spoken tracks over their keyboard-driven, prog-bent, good-natured silliness, while cello-enhanced Cloud Cult showcased two talented painters onstage who created right along with the musicians' interestingly lyrical songscapes.

Spiraling through blacker regions, Rock Kills Kid, Luna Halo and the Living Things emerged from the shadows with stone hard force and chilling sublimity; while the haunting Murder by Death took everyone down that lonely dark road into the desert from which there is no return. On a happier note (or several), the jubilant bluegrass/newgrass sounds of Trampled by Turtles set the fans in their overfilled tent to frenzied clog dancing. Nor were they the only ones: Slightly Stoopid's groovy ska-attack and Los Amigos Invisibles ethnic funk pumped up the fun and ignited their large and appreciative audiences into fever dance motion. And lovers of a good melody weren't left out either as groups like Ludo, Copeland, local luminaries - the SundayRunners, and Red Letter Agent gifted the listener with melodic and clever pop rock; while Carbon Leaf's finely-crafted, country-hued, tunes were exhibits of good singing and good playing: who could ask for more?

Ah, but we can, can't we? And did Hedgpeth ever deliver! New buzz sensations - The Go! Team showed team spirit exhorting everyone to party on with positive spirit in an energetic showing. Blue October, whose singer hobbled to the stage on crutches, continued to show why they are garnering excitement and airplay with their enticing sound.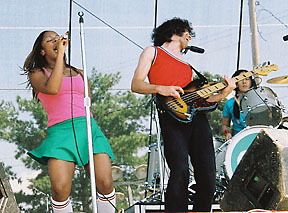 Punk pop rockers The Whigs and Minus the Bear lit up the main stage with enjoyably snappy, bratty performances, while former Faith No More singer Mike Patton's much anticipated "Peeping Tom" project blended heavy rock, smooth soulful pop, and hip-hop into a tasty stylistic melange. Sensational swinging gypsy rockers Devotchka's Eastern-European flavored vibrations drove swirling girls into a belly dancing frenzy under the water sprinklers, while also suddenly making the accordion and tuba(!) cool. And was there ever a more aptly named band than Hot Hot Heat, who flew in from Vancouver, had gear stolen, and had to overcome a malfunctioning keyboard - only to put in one of the hottest and best shows of the fest ... with charming dervish Steve Bays gyrating wildly under the oppressively heavy, high 90s atmosphere.

Add in goofy They Might Be Giants, and Rusted Root (in the beer garden no less!), and all the other bands that spilled untold buckets of sweat (and other bodily fluids) for the benefit of the fans, and you've got yourself one hell of a festival.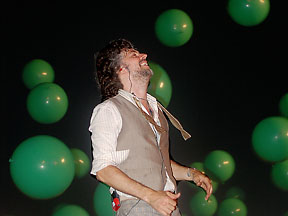 Add in The Flaming Lips and you've got heaven - and Wayne Coyne and the Lips delivered the ecstasy in a big way on Friday night ... complete with dancing Santas and Martian babes (pulled from the crowd), superheroes, streamers, boatloads of confetti, flying glow sticks, balls, video craziness, giant hands, megaphones, a sing-along cover of Queen's "Bohemian Rhapsody," and of course ... "the spaceball" ... a giant bubble/hamster ball that the singer perambulates around in. For those who have never experienced a Flaming Lips concert, words fail to describe the event. A near religious experience: part circus, part pagan ritual, part vaudeville, part high-church, part trippy '60s love-fest, but always slightly tongue-in-cheek, a Lips show nearly drowns the viewer in a flood of color and sensation from which it may take a lifetime to recover ... if you choose to.

Although attendance was disappointingly light this year, it was somewhat to be expected for a festival in its infancy, and in the end the first ever Hedgpeth Festival succeeded admirably by showcasing some of the most important and entertaining bands in the indie ranks today. With another strong lineup and a year's worth of marketing ahead over the next year we can look forward to a bright future for Hedgpeth, as well as for the indie music lovers who will be eagerly awaiting the reprise.