Story and photos by Tony Bonyata

Ask people about some of the most important cities in the history of blues music and you'll undoubtedly hear answers like Chicago, Memphis, St. Louis or Clarksdale. What you're not as likely to hear uttered, however, is Grafton, WI. But with a rich history of recording, manufacturing and distributing music from some of the most important and influential blues musicians of the 20th century, such as Charlie Patton, Son House, Blind Lemon Jefferson, Ma Rainey and Skip James, Grafton is every bit as important as some of the better known blues cities in the nation.

The Wisconsin record label that these artists recorded for was Paramount and the recording studio and record-pressing plant was located in Grafton, a quiet suburban town twenty minutes north of Milwaukee.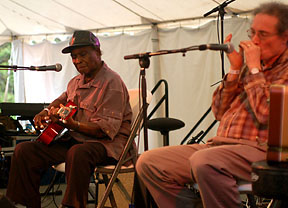 The label was originally better known in the area, however, as The Wisconsin Chair Company; a business that originally manufactured wooden chairs out of their Port Washington, WI location before they branched out to manufacturing wooden phonograph cabinets for Edison Records. With the success of their phonograph cabinet division in 1915 the company executives decided to produce their own line of phonographs and 78 records under the subsidiary of Paramount.

The Paramount Company's physical location was situated on the edge of the Milwaukee River in Grafton, where it did business for fifteen years, from 1917 to 1932. While the company started recording and pressing primarily "ethnic" records targeted for German, Scandinavian and Mexican audiences, it wasn't until they released Alberta Hunter's "Daddy Blues" record in 1922 that they entered what was to become known as Race Records - primarily blues and spiritual recordings aimed at black audiences in both urban cities and the rural south. With advertisements for these records in the Chicago Defender, a weekly African-American newspaper distributed throughout the nation, Paramount was able to reach their target buyers, where the majority of their sales came via mail orders through these ads.

One of the major coups for both Paramount and the history of American music was talent scout H. C. Speir, who owned a music store in Jackson, MS. Speir played a pivotal role in securing talent for the record label from the Delta South, such as Charlie Patton and Son House - two early blues artists who would go onto not only directly influencing young blues musicians such as Muddy Waters, Howlin' Wolf and Elmore James, but who would also much later, indirectly, play a role in shaping rock & roll through acts such as The Yardbirds, The Rolling Stones and Led Zeppelin.

Through mismanagement the label eventually folded in 1932, but not without leaving a major mark on the history of the blues and evolution of modern music.

Despite the fact that black blues music was recorded and pressed in Grafton, the city itself has been very slow in acknowledging and promoting its own importance in the history of blues music.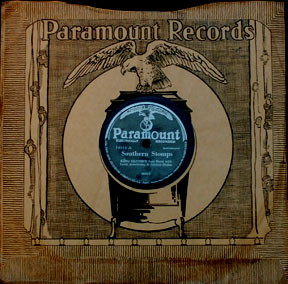 That is, until now.

True blues aficionados and record collectors have known for years the importance and value of any Paramount 12000/13000 catalog series race record. A few years ago rare record collector and dealer John Tefteller visited Grafton where he took out an ad in the local newspaper and followed leads in search of any Paramount records and memorabilia. What he unearthed on this visit included Paramount promotional posters, flyers, calendars, advertisements and photos of blues artists. In addition the PBS television series "History's Detectives" recently produced a fascinating documentary on the Paramount Label and even filmed divers scouring the Milwaukee River for Paramount recordings and other artifacts that might have been dumped there in the 1930s (although, as it turned out, nothing was found).

The biggest acknowledgement from the city itself, however, kicked off on Saturday, Se. 23rd where they held their first annual Paramount Blues Festival at the historic Lime Kiln Park just a block away from the original site of the Paramount plant.

Despite the nagging rain throughout the day, festival attendees were treated to a wealth of great blues from Hawkeye Herman, Reverend Raven & the Chain Smokin Altar Boys, Nora Jean Bruso, Albert Cummings and others. The festival also featured tents where Paramount historians Gayle Dean Wardlow and Alex Van Der Tuuk gave lectures on the history of the label (the latter, who authored the fascinating ten-years-in-the-works book on the Paramount label entitled Paramount's Rise and Fall - A History of the Wisconsin Chair Company). In addition, there were also many historical Paramount artifacts on display, such as 78 records, a rare promotional Charlie Patton poster, a signed artist royalty agreement, a Paramount portable phonograph player and even a wooden rocking chair manufactured by Paramount's parent company, The Wisconsin Chair Company. Along with the great music, local vendors selling food and beverages helped to keep spirits high-and-dry for the hundreds of attendees at the festival.

The one major attraction of this year, however, was undoubtedly the inclusion of 97 year-old bluesman Henry Townsend, the oldest living musician to have recorded at the Paramount studio in Grafton. Townsend recorded two songs there in 1930, "Doctor, Oh Doctor" and the B-side "Jack of Diamonds Georgia Rub" (Paramount 13097) When this record was finally discovered in 1995 in Chattanooga, TN it went up for auction with a minimum bid $2,000.

Unfortunately, the morning of his scheduled appearance at the Grafton festival the musician fell ill and was admitted to the Ozaukee County Hospital. Thankfully, the festival organizers also had another legend scheduled on the bill that they were promoting as a "special surprise guest." This guest was none other than Delta bluesman David "Honeyboy" Edwards, which delighted fans with his rough-hewn vocals, and stinging slide guitar. Honeyboy was accompanied by Earwig Records owner Michael Frank on harp, and it was to be the highlight of the festival.

Sad news just arrived that after being inducted into the Paramount Plaza Walk of Fame in Grafton the following day on Sunday, Sep. 24th, Henry Townsend died in the hospital later that afternoon - 76 years after he cut his first record for Paramount in that very town.