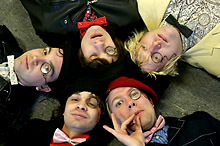 The Shrugs have put the dirty grease stains back into garage rock. Ignoring Nick's mom's warnings - they turned their speakers up so loud that they blew the walls down. Unfazed, they're blazing a trail with a nastier style that Al the Roadie, while drunk and has since denied, has dubbed carport rock. Get ready to HUG THE SHRUGS!!!
ConcertLivewire and Beer and Pizza Productions are proud to present the world premiere of "Hug the Shrugs" in it's entirety.
Check out everything Shrugs at their official website!
Back to Podcast download and trailers.