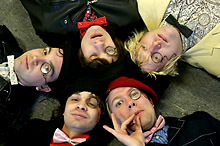 The Shrugs have put the dirty grease stains back into garage rock. Ignoring Nick's mom's warnings - they turned their speakers up so loud that they blew the walls down. Unfazed, they're blazing a trail with a nastier style that Al the Roadie, while drunk and has since denied, has dubbed carport rock. Get ready to HUG THE SHRUGS!!!
ConcertLivewire is proud to exclusively offer 2005's quirky comedy - "Hug the Shrugs" as a podcast absolutely for FREE!
Brought to you by ConcertLivewire and Beer and Pizza Productions. Complete running time: 27 minutes. Rated R
Or view the entire movie here if you have Quicktime 7!
Check out everything Shrugs at their official website!