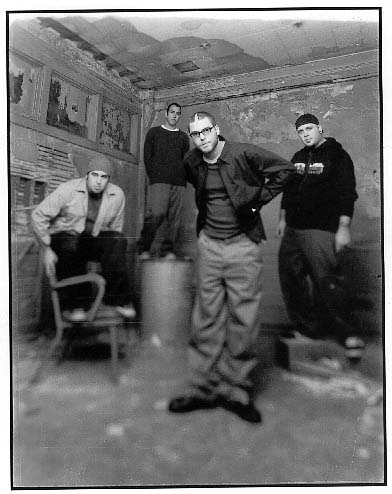 Publicity Photo by Ralf Strathmann
The Invasion Is Underway

Livewire's Exclusive Interview
with Dryden Mitchell of Alien Ant Farm
July 10, 2001
---



Alien Ant Farm came out of nowhere. A month ago barely no one had heard of them, but because of incessant touring and MTV video rotation you can now spot kids wearing their t-shirts and buying their records.
How does it feel to become a star?
Livewire's Phil Bonyata chatted with lead singer Dryden Mitchell on their road to success.



---



Livewire: Why the name Alien Ant Farm?

Dryden: Well, it was our guitar player's idea. Wouldn't it be cool if the human species were placed on earth and cultivated by alien intelligence? Maybe the aliens added us to an atmosphere that was suitable for us, and they've been watching us develop and colonize, kind of like what a kid does with an ant farm, where the aliens are the kids and humans are the ants.

Livewire: What's your relationship with Papa Roach?

Dryden: We've been friends for years now. We started trading shows and we developed this good relationship over the years. We talked about helping the other one out if one of us started getting big. We just got done touring with them. That's really the simple version.

Livewire: You've been on the road for quite awhile now. Are you tired?

Dryden: Um, no not at all. It's kinda like being punk because punk is like being an outcast or something. If we're on this punk rock tour and we're not punk... we're kinda punk.

Livewire: What band on the tour are you most excited to see?

Dryden: 311 because they're pretty exciting live.

Livewire: What are some of your musical influences?

Dryden: Edie Brickell of the New Bohemians, um Sting and the Police as well, um Queen, Steely Dan (laughs). There's something with old rock, you know. I think it helps our style a lot.

Livewire: Where do you think Alien Ant Farm will be one year from now?

Dryden: I'm really not sure, we probably won't even be home yet. We're growing everyday and I can see it in cities we've never been too. Kids turning out and having the record. It's been pretty surprising so far. It's funny how far things go once the spark starts.

Livewire: What makes your music different from the rest of the bands in Vans Warped?

Dryden: I think our influences, you know, where maybe some of these bands don't go back as far as ours do. I think we dig a little deeper. I think our music has a little more soul. I don't know, I'm not trying to put the other bands down, I'm just saying we might be a bit more studied and stuff.

Livewire: I heard you get pretty wild on stage. Did you model your style on any particular performer?

Dryden: You know not really, I love Edie Brickell a lot like I said. She's probably who I look for to steal patterns from and stuff. I guess I don't really do her movements, I just like listening to her singing - the way she breaks up sentences and phrases. We're very, very energetic and we're a very live band and like we're not trying to be intimidating, we want kids to like be able to approach us after the show. We're very positive, so I mean we go crazy and stuff, but we're not trying to be like cooler than any kid that bought a ticket to the show. Where maybe Iggy Pop gets a little too mysterious for me. I doubt I would even want to walk up to him and tell him that I liked him because he might punch me or something (laughs).

Livewire: Do you do anything for the fans besides perform when you're out on the road?

Dryden: Yeah, we do it every show. Like after we play we mingle and talk with the fans and stuff.

Livewire: What's your favorite song off of ANThology?

Dryden: "Attitude" because I'm not very good at relationships and have done bad things in the past. I think it's very mature for our first record. With "Attitude" I'm telling a girl that her feelings of rage are acceptable - everything she does is okay because she's in a relationship with this guy that did such horrendous things. It also has a cool Latin vibe to it. We try not to pigeonhole ourselves

Livewire: Who came up with the title Greatest Hits for your debut album?

Dryden: I don't even remember. Someone came up with it and we we're all laughing about it. Our second album is ANThology so our third record might be a boxed set or something and maybe we'll like do a breakup after the Warped tour and get back together and do a reunion tour. Maybe we'll develop a really bad drug habit like all the old rock bands did (chuckles).

Livewire: Do you guys do a lot of partying on the road?

Dryden: Um, afterward we'll drink a little bit. Yeah, we don't want to kabosh this thing we have going on now.

Livewire: Is there any drugs?

Dryden: No, not at all

Livewire: What do you have up your sleeves for the rest of the Vans Warped Tour?

Dryden: I think if they've never seen us live they're going to trip out.


More Alien Ant Farm
Concert Review - Chicago, IL Nov. 4, 2001
Concert Review - Milwaukee, WI July 13, 2001
ANThology - CD Review
Livewire
Interviews