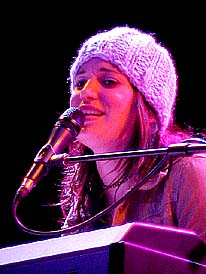 In Concert and In Conversation
Chantal Kreviazuk
House of Blues
Chicago, IL
May 12, 2003
Story and Photos by Andy Argyrakis
---





With all of the recording techniques available these days that can improve, enhance, or impose a singer's voice over someone else's, it's hard to tell who's really an accomplished diva and who's merely hiding behind expensive equipment. As tempting as it would be for Canadian songbird Chantal Kreviazuk to buy into that philosophy and join the ranks of Pro Tools posers currently dominating the Billboard charts, she's one of those true note belters that doesn't need to hide behind anything. Over the course of the last five years and three major label releases, Chantal has continuously stretched her vocal range, while taking daring leaps as a songwriter that your average pre-fabricated payouts couldn't come close to in a million years.
Such esteemed distinction from commercialized crap may afforded Chantal with record breaking album sales, but it has earned her respect, not only not only from the music industry, but also from dedicated fans such as those gathered at the House of Blues Chicago while opening for acoustic rocker Jason Mraz. Touring in support of her latest endeavor What If It All Means Something, this multi-talented artist brought her ethereal piano pop to a concert setting, verifying that her range on record is just as strong on stage. Whether performing the jubilant album opener "In This Life," the new disc's ponderous title cut, the hushed piano ballad "Jet Plane," or her shimmering 2000 hit "Before You," Chantal was bold in her attitude and genuine in her delivery. Here's a bit more about the project, the subsequent tour, and Chantal herself from a pre-concert conversation:



---





Livewire: How do you think first rising to fame in Canada helped you create a buzz in America?

Chantal: I don't think it's really helped all that much because it's been the record label's [Columbia] world wide satellite vision that's planted the seeds. I've built a solid career there, but America's ten times the size. Now that we're onto the third record, I feel like the stars have aligned and American audiences are embracing my music even more.

Livewire: What about beating out people like Celine Dion and Alanis Morissette at the Juno Awards [Canada's Grammys]? Certainly that had to help.

Chantal: Actually, no, because awards don't spark sales as much as you'd think. The flattery is nice, but awards don't add up to writing quality songs.

Livewire: What place do you feel you have in each market?

Chantal: I guess you could put me in with the chick songwriters like Sarah McLachlan, Dido, and Tori Amos in either place. Honestly though, scenes are irrelevant to me and the only time it really comes up are when a journalist asks me about it. I'm not being resentful when I say that since it's important to gauge a new record or artist against someone else, but I can't think of it that way because I'm so close to what I do.

Livewire: How did the last two records prepare you for what came out of the Something sessions?

Chantal: It's been a continual growth process for me and I've found it important to acknowledge different parts of myself. I'm not writing just about melancholy stuff anymore, I made a point to cover a wide range of emotions. If certain songs become popular enough to the point where I'll be playing them the rest of my life, I don't want them all to dwell on the same down moment that I'll have to keep reliving. I'd never want to get stuck in a genre of emotion, just deep and poignant thoughts as an individual and a songwriter.

Livewire: I heard you first started songwriting when recovering from a motorcycle accident. Would you say that the accident was a blessing in disguise?

Chantal: Well, I actually first got into music as a small child, and as I became a teen, I sought out making money from music, weather that was singing lounge gigs, backup in studios, or weddings. When I was 21, I got into a motorcycle accident while traveling in Europe and I had to lie around a lot in the aftermath, which was really the first time in my life that I became really focused and inspired to write. So in a sense, the accident was definitely good for me and if that didn't happen, it probably would have taken me a lot longer to get productive.

Livewire: I also read that in those beginnings you felt like you owed listeners particular messages in your song, but recently took more ownership of the music. How were you able to get more personal with your songwriting?

Chantal: I've found that in now having experienced what it's like to make records and just through growing up in general that you should be expressive about what's affecting you instead of trying to sing about a subject just for the sake of other people getting something from it. If I'm writing strictly for others, how does that show what I'm experiencing or thinking? I just got to a point where I realized I could be as personal as I wanted to be and people could relate to those situations if they so choose.

Livewire: I can see how that shines through on the record, especially since all the songs sound so clean. Was that a conscious production choice?

Chantal: [The album's producer] Gregg Wattenberg [Five For Fighting] is the one who really made that happen. It's an old school approach where he doesn't want to smoother records with sugar. It was about protecting each song itself so those messages wouldn't get mixed up with a lot of distracting tricks.

Livewire: What about your tag team with Jason Mraz for this tour? How has that worked to your advantage?

Chantal: That's been old school too. His fans are really musical so they appreciate what we're doing and how we're conveying it on stage. When I get up and play, I'm not having to sell myself because people are coming in with an open mind even if they haven't heard me before.

Livewire: How are you able to keep your voice so pure with so many back to back performances?

Chantal: Sleep, sleep, sleep, and sleep. Making sleep happen is a must- anytime, anywhere, from a plane to a train to an automobile. Ideally, I like to get eight to ten hours a night, though I'll take it broken up in two segments if I have to. It's the only way to make it through a tour, despite all the stories you hear of staying up late and partying. Don't get me wrong, we still go out after a gig and hang out late, but we also make sure to go to bed within some point of the day's travel schedule.

Livewire: What's your ultimate goal for the What If It All Means Something tour and beyond?

Chantal: To be honest, I'm not as goal oriented and ambitious as I once was. I seem to have secured some place in world of music and that's kind of all that really matters to me. I can't say I want to earn a particular award or sell a certain number of records, because even if I do that, the satisfaction only lasts five minutes. The real excitement comes from continually making records that I'm really proud of and finding my identity in the record making process.


Here's Your Chance to.... Respond!


Your feedback will be featured on
Rant or Rave within 24 hours.
Livewire
Interviews