Story and photos by Brad Walseth

Chicago and New Orleans - two cities with a rich and close connection in the history of jazz - one still hurting from the devestation of Hurricane Katrina, yet filled with a spirit of joy and in optimism in the face of rebuilding from a natural disaster - both still reverberating with the cries of the Civil Rights Movement. Together musicians from both cities - both young and old, made this year's Chicago Jazz Festival an emotionally overwhelming success.

So many highlights, so much emotion. From high-powered Latin jazzers Chevere - whose set featured hot solos from all members and included a sizzling appearance from harmonica demon Howard Levy - to this year's Artist in Residence Lee Konitz's Nonet (plus one)'s cool stylings. From Ben Lewis' solo piano concert to the Aurora High School Jazz band and Gospel Choir to Joe Lovano's exceptional (Gunther Schuller arranged) revisting and updating of Miles Davis' Birth of the Cool, to Joey DeFrancisco's organ-ic pairing with Dr. Lonnie Smith, a variety of musical styles could be gathered up by the bushel.

It was hard to keep a dry eye Friday and Saturday as emotions were running high. John Moulder's intensely spritual "Trinty" suite opened up and moved the mountains and seas with its powerful fusion movements.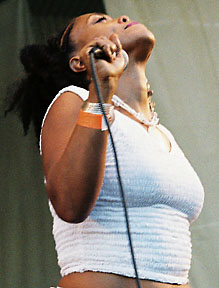 The contrast between the frail Earma Thompson, who played like she were years younger, and the wonderful youth group "Dos Claves Orquestra," who played big band Latin jazz like they were much older, was something to behold.

Dr. Michael White's Original Liberty Jazz Band came out with all cylinders firing - causing the audience to swell in appreciation as even other musicians filled the wings on the stage to watch these veterans turn it up. Malachai Thompson's former bandmates in the Africa Brass with Billy Harper gave their fallen comrade a tremendous tribute with their interesting arrangements and inspired playing, especially on "Harold the Great" - a song remembering beloved former Chicago Mayor Harold Washington that nearly drove the stage to the center of the Earth with a groove that deep. Later in the evening, silver-throated Nneenna Freelon's shimmering voice floated over the night air showing why she is one of the best singers in jazz today. And Charlie Hunter's blues shredding on guitar brought out a contigent of youthful admirers.

Unusual sonic experiments were evident with the Lucky 7s( a combined Chicago/New Orleans group) and Dutch big band Bik Bent Braam, while Jason Moran and the Bandwagon's forays into the eclectic were brought back to earth by crowd favorite Bunky Green's return appearence in Chicago.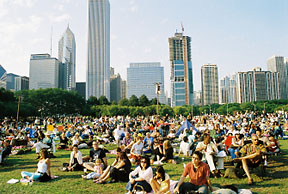 Organissimo lived up to their billing as an up and coming organ trio, while Bobby Lewis showed he is still shooting sparks from his trumpet in a killer set featuring the incredible Pat Mallinger on tenor sax. Frieda Lee gave us a set full of grace and charm and some pleasant old standards, while Dana Hall's supergroup played with fierce spirit.

Sound like something special? Well let's add in Donald Harrison's high stepping set, and of course Willie Pickens' 75th birthday celebration - where he played some very un-churchlike piano for a deacon. The shadowy Jazz and Heritage Stage was setting for Ken Chaney and the Jazz Link All Stars, Niki Mitchell and Edward Wilkerson's jungle and savanna colored African music, the talented and beautifully costumed Muntu Dance Theater, The Union League Civis and Arts Jazz Ensemble's enjoyable set, "HiJazz" - a world music jazz combo, John Watson's "A History of Jazz," and Paul Wertico's "Percussion Discussion."

I can't say enough about Maggie and Africa Brown's beautiful tribute to their father - the late lamented songwriter/social activist Oscar Brown, Jr. Their delightful, dynamic and loving presentation of their father's songs, was not only a fitting celebration of an unjustly overlooked figure, but an open invitation to learn more about the man and his art.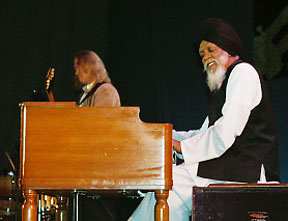 In especial, Maggie's mournful lamenting take on her father's "Old Man in the Chair" (with an empty chair at stage right) left few tears unshed.

Sunday was "funday," a day of celebratory exuberance, with the Rebirth Brass Band providing an entertaining set of hip-hopped-up brass band music. But perhaps the explosive centerpiece of the entire festival was the revved-up jam between Chicagoan trumpet ace Corey Wilkes and his band and his New Orleans counterpart the unbelievable Maurice Brown and his band. The voltage generated by this session overflowed into the crowd, which Mardi Gras danced as if the Crescent City's Ninth Ward had suddenly moved up north to Grant Park. This amazing experience culminated in the horn players marching off the stage and into the photo pit where their gyrations and fevered playing stirred the huge crowd into an utter frenzy. A celebration of the friendship and close sense of community between the two cities became clearly apparent in the display and set a tone of goodwill and brotherhood that one can hope will extend beyond the end of the festival.


Check out the full Chicago Jazz Fest photo galleries at JazzChicago.net