Real rockers go to Hell
Nov. 25, 2004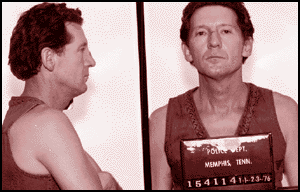 Jerry Lee Lewis
Story by John Halverson

So you call yourself a rock 'n roller?
You're not man enough to call yourself a rock 'n roller until you give a listen to what has been called the greatest live album ever-"Jerry Lee Lewis at the Star-Club."
Demented.
Unhinged.
Foaming at the mouth.
This is full throttle, hair on the chest jungle music.
Recorded in 1964, it wasn't released in the United States until the early 1990s. No wonder. When Jerry Lee Lewis cut loose on this one, his handlers were trying to fashion a comeback for the white trash rocker who years earlier had ruined his career by marrying his 13-year-old cousin. They shouldn't have bothered. If it hadn't been that it would have been something else...and was. After all, they didn't call him The Killer for nothin'.
Clearly, there's something about Jerry Lee's basic no-goodness that adds a guilty pleasure to his music, and it's this "Star-Club" performance that shows how shimmering and electric evil can be. More than one reviewer said it sounded like he was playing in a rage-maybe at the way bad publicity had ruined him; maybe because rage and Jerry Lee just go hand-in-hand. Jerry's introduced by someone who sounds more French than German. Jerry makes a curdling sound like a panther does before a pounce. Jerry makes a hum like he's setting a beat for a high school glee club...and then ...and then.
HOLD ON.
Hold on for blood curdling, faster than a speeding bullet rock 'n roll. From "Mean Woman Blues" all the way through to "Whole Lotta Shakin' Goin On"-with only a short reprieve for a hillbilly rendition of "Your Cheating Heart," Jerry makes you understand why our parents warned us against this stuff. First, there's the incredible pace. It's hard to believe a group named "The Nashville Teens" could stay up with Jerry, but they almost do. Jerry's pace is like a hyena on speed. But this warp speed fails to cover up Jerry's talent. He's not just a screamer, though he does that well. He varies his pace, morphs into different styles, all the time countering his punches with a varied-though never subtle-piano style. I remember from my youth, an Elvis song called "Hard Headed Woman" that was sung so fast no one could understand it. At times, Jerry's singing is like that-but you get the feeling Jerry is enunciating everything properly and that you're the one who just can't keep up. Second, there's his piano playing. It's just plain hot. Listen to his opening piano riffs on "Mean Woman " and you'll hear Jerry subtly shift tempo and then slide over the keys in a way they weren't made to be slid over. "High School Confidential" is a juvenile delinquent song. "Money (That's What I Want") makes the Beatle's version sound sissified. And Elvis ought to have hung 'em up after hearing Jerry Lee tear through "Hound Dog" and actually howl like a hound dog. Whew. (And I guess, Elvis did kind of hang them up anyway after he got his haircut for the Army). For all out heat, though, flick to No. 8-"Good Golly, Miss Molly." Where does he find the stamina?
If this album would have been played at the rate these songs are usually played, it would have lasted three hours. Jerry packed in all his ferocity into 13 death-defying tracks. And if you haven't heard enough-and I suspect anyone who has borne the heat of this album all in one sitting has probably melted-catch the last minute or so of "Whole Lotta Shakin' Goin' On."
It just proves-real rockers are going to hell because it's a sure thing that when Jerry gives it up, he ain't going to "Rock 'n roll Heaven."



Here's Your Chance to.... Respond!



Your feedback will be featured on
Rant or Rave within 24 hours.