Story and photos by Andy Argyrakis

Contrary to popular belief in America, Howard Jones hasn't been in hibernation since 1992's In the Running (Elektra), but has actually been more prolific following major label life than he was throughout the 1980s. No, one of the most consistent club-tinged synth rockers from the decade of decadence hasn't fallen off the face of the earth (as his latest tour indicated) and he's actually attempting to reclaim that pulsating throne with the recent Revolution of the Heart (Koch). While it may not be his crowning achievement, it's a respectable attempt at a comeback and one that packed the intimate Shank Hall to the brim in the tunesmith's first Milwaukee appearance in nearly ten years.

The fact that the show featured merely Jones with a piano and the guitarist Robin Boult seemed a little strange, especially in light of his latest record's electronic tone.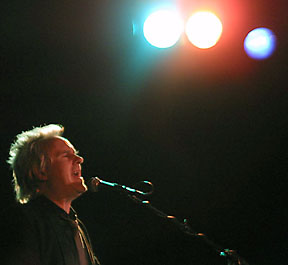 But this isn't the first time Jones took the stripped down format on the road, which can be traced to 1996's Live Acoustic America (Plump). In many cases, the scaled back arrangements worked for the British pop star, ditching the dated production for a more sophisticated sound. Early examples included unplugged takes on "Like To Get To Know You Well" and "Pearl In the Shell," two massive hits that earned a much needed face lift.

Keeping in that peaceful and pensive vein, Jones debuted gentle versions of new songs "Love's Never Wasted" and "Straight Ahead," revealing his zeal for writing about hopeful subjects hasn't disappeared with age. "Everlasting Love" flashed back in time once again and proved especially potent with the pared down arrangement, thanks in part to an audience sing-a-long during the infectious chorus. After a short intermission, Jones returned with a slightly more muscular, almost gospel vibe for "Exodus" (a somewhat forgotten catalogue cut that was met with abundant appreciation), along with the cheerful "Tomorrow Is Now" (co-written with The Go-Go's Jane Wiedlin).

Yet not all of Jones' experiments turned to gold, mostly because certain songs required either a backing band or programmed beats. One of his darkest selections "The Prisoner" would've benefited from electric guitars, while "Things Can Only Get Better" was such a dance staple that it sounded watered down and lacking motivation in comparison to the original. Instead the headliner found better luck with the memorable ballad "No One Is To Blame," which seemed almost tailor-made for this type of set and was delivered with near perfection. Even though Jones may never be able to repeat the level of success from that song in the States, he still impressed those gathered with a generous two hour show that never rested on his laurels.