Story and Photos by Matt Schwenke

Fresh off the release of their fourth album, Jurassic 5's performance at the Rave highlighted the new sounds of Feedback and delivered a healthy dose from the group's most popular release Power In Numbers-- producing a crowd that swayed and bounced in unison.

Never leaping too far from time-tested approaches of hook and melody, Jurassic 5 blended thick beats and funky samples with a vocal precision that mimics the polyrhythmic variation of a talented drummer.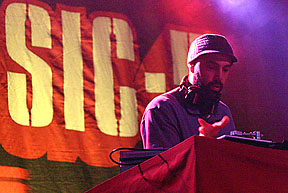 Tonally adept as well, Chali 2na's distinct baritone laid down a low end to the inspired and intelligent lyrics, which Akil, Zaakir and Mark 7even wove complicated, higher-toned patterns with. Standouts early in the set included the 1998 Jurassic 5 LP relic "Concrete Schoolyard", as well as "If You Only Knew" and "High Fidelity." Taking a break from the bounce, the sway of "Hey" was irresistible and set up a run of songs and performances that continually rose in energy until the end of the show.

Letting the man in the back take over for a solo section, the front four cleared the stage for DJ Nu-Mark, who strolled out from behind his booth scratching a 45 on a mini turntable slung around his neck. Mini turntable aside, DJ Nu-Mark rotated through an assortment of odd sound makers, including what looked like a child's toy, all the while receiving creative approval from the crowd. All five resuming normal stage positions, the group asked the audience for "two minutes of seriousness" for "victims of bullshit wars" and yelled out "Fuck George W. Bush" before going into "Freedom" with the crowd chanting the title lyric with a loud report in the chorus. The energy roused was sustained with the funky "What's Golden" and an encore performance of "Work It Out" stood up strong, even without the vocals of Dave Matthews found on the album. Members of opening act X Clan joined in for a few words in the encore before Jurassic 5 ended the night with the crowd chanting "peace"-- a fitting end to a positive artistic display.