Story by Phil Bonyata
Photos by Phil Bonyata, Karen Bondowski & Andy Argyrakis

Lollapalooza has seemed to have finally found a home. Beginning in 1991 and springing from the fertile mind of Jane's Addiction frontman Perry Farrell - Lollapalooza was a travelling rock 'n roll circus for the alternative community. The first few years were very successful marrying such acts as Jane's Addiction, Pearl Jam, Ministry, Red Hot Chili Peppers, Soundgarden and many more vital bands of the genre. After waning ticket sales the fest shuttered it's box office and called it a day. Re emerging in 2003 - Lollapalooza found success back as a touring circus - albeit much more conservative than the early years.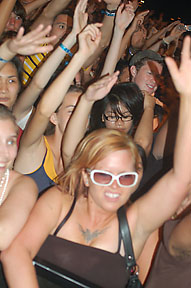 Then in 2004 the fest was cancelled due to low ticket sales before it ever played a single city with such headlining acts as Morrissey, PJ Harvey, Modest Mouse and Sonic Youth. Last year's promoters were able to secure Hutchinson Field (Grant Park) for the two day fest with much success with such acts as Weezer, The Arcade Fire, The Killers and Pixies. The fest was tight and lean with many exciting acts featured alongside older established icons. This year - promoters' eyes grew even larger by having the fest run for three days instead of two and more than doubling the size of the grounds. This was a mistake as it took an eternity to reach the stages at Butler Field if you were travelling from the stages at Hutchinson Field - or vice versa. If you didn't have blisters on your feet you probably stayed on one side for the whole event. But the bottom line (and there's always a bottom line) is there were an estimated 40,000 - 60,000 daily attendance which will certainly ensure a long run here in Chicago.

Friday found some heavy hitters with Panic! At the Disco who let the theatre shine with a bevy of costumed exrtras floating around the stage to help pepper the music with a little glitter. Songs such as "I Write Sins Not Tragedies," Time to Dance" and "But It's Better If You Do" showcased their unique blend of melody-driven rock and dance theatre. Their version of the Smashing Pumpkins' "Tonight, Tonight" would have made Billy Corgan smile. The Raconteurs, featuring Jack White (The White Stripes) and fellow Detroit rockers Brendan Benson, Jack Lawrence and Patrick Keeler brought the gasoline back into garage rock. "Steady As She Goes" had White's guitar's lo-fi cries dance with his every spastic move.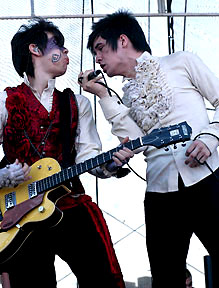 Unfurling the fuzzy power chords with an unyielding ferocity along with some gritty vocals The Raconteurs turned back the clock while turning up the heat. Death Cab for Cuties' perfomance was one of pure energy and melody. Ben Gibbard's haunting voice and unusually dynamic (take note indie shoe gazers) stage movements made for a special treat with engrossing songs like "Soul Meets Body," the ethereal "New Year," "Title and Registration," "Expo '86" and "Sound of Settling." The Violent Femmes played their ever so unique music with the passionate flair of rockers half their age. They hit musical gold with "Blister in the Sun," "American Music," Country Death Song," "Jesus Walking on the Water" and "Kiss Off."

Saturday found hometown boys Kill Hannah blow the doors down with their fiery set of hard ball rockers like "Kennedy," "Lips Like Morphine" and "All That She Wants." The thick layers of distorted guitars and electronics coupled with the boundless energy of the band was one of the highlights of the day. The Dresdon Dolls mix of over the top mime-like theatre which mixes the sexuality of the Weimar-era German cabaret and the grandiose notions of the rock opera. Their songs are rich with dark humor and unusual downbeats of piano and drums which makes for a gloomy yet atmospheric ride. Especially on songs like "Sex Changes" and "Ms. O." The Flaming Lips mix of life-loving party and echoing soundscapes was more than evident in their carnival of visual sensations from streams of confetti, small and large balloons floating everywhere in the audience - to dancing Santas and Martians and of course, Wayne Cone "floating" around the audience in his plastic spaceball that created a melenge of flavorful sight and sound.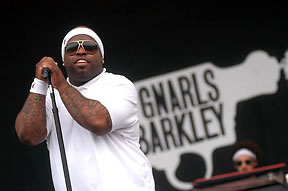 New sensation Gnarls Barkley had rapper/vocalist Cee-Lo and DJ Danger Mouse harkening back to '70s soul while mixing in rabid beats and vivid musical landscapes. Monster hit "Carzy," "Transformer" and the Violent Femmes "Gone Daddy Gone" had the audience turn into a swirling sea of flailing arms. Chicago rapper Kanye West sometimes syrupy lyrics got in the way of his usually strong stage persona - leaving some to wonder what all the fuss was about.

Sunday, the final day, found the Frames in fine form with inspired string arrangements of violinist Colm Mac Con Iomaire and the smoky bar vocals of Glen Hansard. The show was filled with plenty of moody swings and emotional and vibrant lyrics. Seminal alt-rockers Sonic Youth let it's experimental noise burst into full bloom just as the foundations of punk rock never knew what hit 'em and neither did the audience. Broken Social Scene's special take on indie rock and their penchant for experimental mini-symphonies was truly a moving experience. Their rich slices of monster choruses, orchestral underpinings and odd but inviting arrangements left you mesmerized. Headliners the Red Hot Chili Peppers funky vinegar laced set was a fitting close to a major music fest that Lollapalooza can now confidently call Chicago it's home.