Story and photos by Brad Walseth

This weekend Chicago welcomed back one of its most popular and successful native sons when young trumpet wonder Maurice Brown returned for a two night engagement at the Green Mill Lounge. This date was eagerly anticipated by jazz afficianados, many of whom had experienced the artist's scintillating concert with Corey Wilkes at last summer's Chicago Jazz Fest (a concert named Best of the Year by www.JazzChicago.Net). A highly accomplished player across many different styles of jazz - Brown featured his more danceable side for this gig, featuring the soulful, funk-infused, hip-hop directions of his "Soul'd U Out" combo. Saturday night's show was three sets of electric energy and bone deep groves that shook the foundations of the Green Mill to the core and had the audience enthralled and completely in the enigmatic trumpeter's spell.

Brown's enthusiasm is contagious; dancing, swaying, twirling his trumpet and exhorting his bandmates on - he is an explosive Roman candle of nearly primal energy on the stage. And when he smiles it lights up the room with the sheer joy and love of life and making music.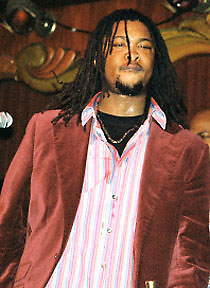 He is not just a fantastic entertainer though, the young man possesses a vast array of skill on his instrument and can range from a soft sobbing grace on a ballad to explosive bursts of power to effect-laden Eddie Van Halen /Jimi Hendrix riffing seemingly at will. As a humorous example of how he combines his incredible playing with entertainment, Brown will sometimes glance at his watch while extending a trill - something that never fails to generate a laugh from the crowd.

Brown was joined this night by an extremely talented group of players who deserve mention in their own right. Tenor saxophonist Stacy Dillard was the perfect compliment to Maurice, exchanging solos that were cool, and thoughtful - a direct contrast to Brown's exhuberance. Chicagoan Chris Rob's organ shimmered, his keyboard work was deft and his soulful vocals added a significant and pleasant touch to the evening. These three were assisted by a bedrock rhythm section from ferocious local band ZZAJE: guitarist Mike Gallagher - who showed able support on rhythm and nimble fingers on his skittering solos; mighty drummer Brandon Collins - who kept the James Brown beats hot and heavy; and Energizer Bunny bassist Marshall Knights whose fretboard will no doubt soon need replacing from his non-stop rampaging across every inch of it.

The song list was eclectic, and ranged from Brown originals, James Brown covers, a funked-up version of Eddie Harris' "Freedom Jazz Dance," improvised acid funk, and Duke Ellington - a soul'd out "In A Sentimental Mood," and a hot version of "Caravan" where bassist Knights nearly dug a groove straight through to China. The surprising song choices made for a most entertaining time for the audience, while several songs featured call and response and hand clapping which - along with Brown's jungle squeals on his trumpet and enthusiastic rapping - got the crowd's energy involved. A great example was when the band suddenly pulled out a sizzling hot, mostly instrumental version of Gnarls Barkley's hit single, "Crazy," which had the entire crowd frenzied and singing along.

All in all, it was an evening that pulsated with a mix of jazz, funk, hip-hop, pop, improv, rock, soul, etc... - presided over by the presence of one of the jazz world's finest young musicians and entertainers; and within the cozy confines of the Green Mill, the sense of good-will and positive energy between the audience and the artists was palpable. As it was noted - Maurice may have moved on from Chicago to New Orleans and now to New York City, but he saves his best energy for his hometown of Chicago, and the result was clearly a good one for all present.

Check out great Chicago jazz happenings at JazzChicago.net