Story and photos by Andy Argyrakis

Very few bands can claim to have given birth to a sound all its own, but The Byrds are one of the few thanks to its jangle pop expressions that merged the worlds of The Beatles and Bob Dylan. By combining the best of the British Invasion with a key folk figurehead, the group not only stretched the sonic landscape of the middle 1960s, but earned heaps of critical and fellow artist acclaim (including the aforementioned) in the process. The original line-up was a super group of sorts, consisting of Roger McGuinn, David Crosby, Chris Hillman, Gene Clark and Michael Clarke, though the incarnations shifted countless times throughout the years including a series of splintered reunions. While Crosby went on to find the most fame as a solo artist and with Crosby, Stills, Nash and Young, McGuinn is most often credited with The Byrds' bountiful success and continues preserving its legacy.

These days, the Chicago native and one time Old Town School of Folk Music student is touring the solo circuit, keeping a grassroots connection with his fan base in a variety of "VH1 Storytellers" styled events.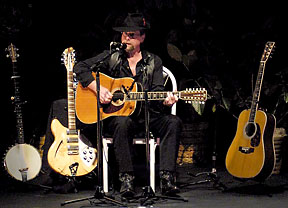 Even though his solo discs have not been as visible as those by Crosby, there's still been plenty flowing down the product pipeline in recent years, including a four CD box set entitled The Folk Den Project 1995-2005 (chronicling recordings released on his website www.mcguinn.com) and a forthcoming Byrds retrospective There Is a Season(bowing on Columbia/Legacy September 26). There was plenty to play from both worlds in McGuinn's twenty-three song set of timeless tunes at the intimate Beverly Arts Center (www.beverlyartcenter.org), one of Chicago's rapidly growing concert halls with a forthcoming calendar that includes venerable pub rocker Graham Parker and 80s hit makers The Smithereens.

McGuinn warmed up the sold out audience with "My Back Pages," a tune he previously performed at Madison Square Garden for Bob Dylan's 30th anniversary bash with the illustrious likes of the event's benefactor, George Harrison and Eric Clapton. Though his celebrity friends were certainly missed, the solo Byrd kept in flight with "Ballad of Easy Rider," a tune he wrote with an uncredited Dylan for Peter Fonda's film of the same name that held up marvelously thanks to his comforting pipes and tuneful strumming. Other early prizes included his former band's "You Showed Me," another nod to Dylan with "All I Really Want To Do" and a riveting interpretation of Woody Guthrie's "Pretty Boy Floyd."

Though the stage was sparse during the entire evening, McGuinn was flanked with a series of guitars and even a banjo, which he discussed during his switch up between songs. Amongst the most interesting was what he described as a "Roger McGuinn HD-7 Martin," which was employed for a stroll down past New Orleans circa 1929 (playing specific tribute to bluesman Richard "Rabbit" Brown). He later moved to a 12-string Rickenbacker come the classic "Mr. Tambourine Man," though before performing his radio ready interpretation, played a few lines on an acoustic as they'd originally been recorded by Dylan. Yet the real highpoint came with a salute to fellow folk forefather Pete Seeger for the immortal "Turn! Turn! Turn! (To Everything There Is A Season)." Of course The Byrds' version is the most familiar to the general public and McGuinn sang it with all the emotion he first possessed during the psychedelic era.

No matter what the material, the singer/songwriter was a kind and conversational performer who introduced nearly each track with antidotes, offered a handful of jokes and was obviously still in love with performing. Throughout the entire set, McGuinn didn't just look back at his muses, but showcased several original ideas that have clearly rubbed off on the likes of R.E.M. and even more overtly Tom Petty (who covered "So You Want To Be A Rock 'N' Roll Star"). And that fact, along with his enduring interpretations of yesteryear, was enough to cement this Rock and Roll Hall of Fame inductee as an artist of legendary proportions, even if he was all by his lonesome during this particularly moving instance.