Story and photos by Matt Schwenke

The jam-heavy collective moe., which spawned in the shadows of a jam band scene dominated by Phish, Widespread Panic, et. al. and thus bears some resemblance, have been able to maintain a steady following and have just released their first studio recording in four years.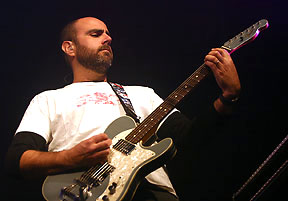 But the band's performance at the Rave was dominated by older material, without a single tune representing the new work, and though not as complex, the energy behind the older material and dramatic use of lighting made for an evening of grooveable fun.

The night began on a concise note with "It," from the group's 1998 release Tin Cans and Car Tires, and was followed up with the toe-tapping "She Sends Me," from 1996's No Doy. Also from Tin Cans and Car Tires "Stranger Than Fiction" provided for gritty, riff-based rock and one of the group's most focused tunes, while the geographical run of "New York City" and "Nebraska" into "Mexico" made for a spectacular jam of bluegrass and rock to the end the set.

The catchy refrains and breaks in "Timmy Tucker," from 1994's Headseed, did well to get the crowd moving again after the intermission, and the quirky "Bearsong" followed with strange sounds, a la Les Claypool, adding some variety. As the band cooled down and wandered gently mid-set, things were turned back around with the funky "Recreational Chemistry" and the deranging "Sensory Deprivation Bank" to keep the crowd calling for more.

Returning to the stage for an encore performance of "Good Trip," moe. went into a reprise of "Nebraska" to end the night and to leave many in the crowd with sore, but still dancing, feet.