Story and file photos by Matt Schwenke

Collaborating back in 1998 for John Scofield's funky release A Go Go, Medeski, Martin & Wood return the favor with their latest release Out Louder and, in support of the album, have been sharing the stage and delivering strangely beautiful, groove-heavy, avant-garde jazz.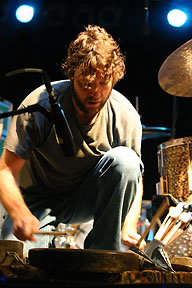 The group's show at the Rave had its fair share of improv, and the on-stage communication between members was sometimes primitive, as in hand gestures or shouting, while other times seemingly telepathic, as in a simple nod of the head-- both were ultimately effective as evidenced in the complicated changes and heavy sounds of "Miles Behind," an homage to Miles Davis from the new album. The two-set evening was dominated by tunes from the new release, with the deep grooves of Chris Martin's bass starting off the night on "Tootie Ma Is A Big Fine Thing." Other new tunes "Little Walter Rides Again," and "Cachaca" were most akin to the sexy, upbeat sounds from A Go Go, and "In Case The World Changes Its Mind," featuring Medeski on melodica, was most akin to the seductive, downtempo sounds from MMW's previous release End of the World Party (Just In Case).

Drummer Billy Martin offered up much by way of creative percussion and drums solos throughout the night, the likes of which can be found in his "illy B" beat collection. From A Go Go, Scofield was masterful in the gritty textures of "Chank" and prodding with his jiggly riffs in "Hottentot." Probably more of a reflection of MSMW's newer fans than Scofield's intentions, a few well-spaced strums to open "Hottentot" caused many in the crowd to chant to the opening of Phish's "Wilson" on cue. But, when considering the group covered Cream's "Sunshine of Your Love" immediately prior, conjured up a samba earlier in "Hanuman" and encored with the deep blues journey of the MMW live gem "New New Orleans," these four musicians continually leave audiences guessing where they just might go.