Story and photos by Andy Argyrakis

At the rate the critical community has been raving about Muse, one would expect the group to have made meteoric marks in America and literally be the next of kin to Radiohead. While a cult-like following has never had trouble accepting, or rather wholeheartedly eating up, anything the trio released in nearly ten years together, the mainstream hasn't embraced the band to nearly the degree it deserves. But that's all about the change as the group's latest Black Holes and Revelations is its most immediate, accessible and engaging to date, perfect for fans of Radiohead (one of the band's constant measuring sticks) Coldplay, Snow Patrol, Sigur Ros and even Queen at times (given its sonic theatrics). However, even with those points of reference and the constant comparisons in reviews loaded with adoration, Muse somehow creates a completely unpredictable, outgoing, energetic and enigmatic approach that reaches its optimal in concert.

A packed (though not completely sold out) Aragon Ballroom served the group well, who made the most of its murky acoustics and carried through with potency and power. Continuity and pacing played a major role in that communication, taking those gathered on a cohesive journey throughout jarring guitars, pulsating electronics, icy chills, dreamy lyrics and ethereal leanings.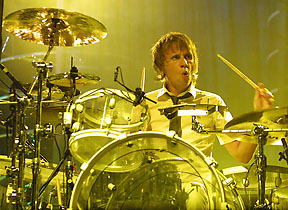 "Map of the Problematique" opened the evening featuring interplay between fierce percussion and eerie key pounding, while the fellow new cut "Supermassive Black Hole" was loaded with chunky riffs and one of the group's most groove oriented curvatures. "Take a Bow" settled in with a laid back glow but eventually exploded with experimental insistence and an awe inspiring wall of sound that combined live instrumentation and percolating programming, tied together through the pleading vocals of Matthew Bellamy.

As a front man, he shined throughout the whole set, mirroring a similar charisma to Thom Yorke, though not nearly as spastic (especially on the reflective acoustic ballad "Soldier's Poem"). However his range and hyperactivity was certainly rivaled on the emotional Absolution alums "Hysteria" and "Stockholm Syndrome," which continued unveiling the group's grandiose desires and far reaching soundscapes. Additional diversity was displayed throughout the epic "Knights of Cydonia," which demonstrated one of Muse's most progressive rock inspired displays that conjured up rhythmic images of Rush from back in the day.

In constantly keeping the audience guessing, yet pleasing them at the same time by amply alternating between current cuts and older nuggets, Muse was on the top of its game, pleading to be discovered by those outside of its educated niche. But even if (and when) that breakthrough happens, this adventurous set indicated that members will likely never stray from their unconventional ideals, making artistry a top priority over commercialism, but still connecting with a dedicated audience in the process. Like its name implies, this Muse is also sure to rub off on other bands, serving as a bar for many to reach well into the ages.