Story and Photos by Matt Schwenke

Huddled closely under the same indie umbrella as Bright Eyes and My Morning Jacket, M. Ward's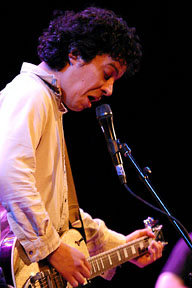 curiously creative musings with voice and guitar alike reminisce of an older era of sound yet inject a modern perspective through unique songwriting.

With guitar slung low at the Pabst Theatre, M. Ward had all the grit and muffled tones of a Neil Young but with a gentler approach often relegated to crooning and whispers. Evidenced in "Chinese Translation," M. Ward's well-crafted lyrics molded a scene in a spectacular folk fashion and were augmented with silky smooth harmonies with drummer Rachel Blumberg, formally of the Decemberists. In another smooth blend of lulling sounds with fine grit, "Post War," the title track of M. Ward's August release, featured airy, e-bow guitar surges amidst swaying rhythms of vocals and shakers. With multi-intstrument talent abounding in Ward's touring band, Ward himself was no exception playing the keys on a cover of Daniel Johnston's "To Go Home"-- which provided one of the most energetic points of the show.

In contrast, an acoustic version of "I'll Be Your Bird" was so gently delivered the harmonic strike on guitar to end the song seemed like a loud crash in comparison to the tune's gentle rumble. In another gently moody tune, M. Ward's storytelling ability took first chair in "Paul's Song" where a heart is left out in the Portland rain. With creative sounds and masterful delivery, the only thing lacking from M. Ward's 75-minute set was another 20 minutes of song.