Story and photos by Andy Argyrakis

The musical roots of Jeffrey Osborne dig much deeper than his run of the pop charts in the 1980s dating back to his father's session work thirty years earlier. Trumpeter Clarence "Legs" Osborne may have passed away when his son was a mere 13, but he left an indelible jazz/swing influence on the youngster thanks to session work with Duke Ellington, Lionel Hampton and Count Basie. By the late 60s, Jeffrey gave music a stab all by himself, applying those illustrious influences to form Love Men Ltd., which later switched the soulful/R&B outfit L.T.D..

On his latest solo tour, Osborne dug out a handful of his past band's best work, sprinkled in several of his own hits and shined with the current release From the Soul (Jay Oz/KOCH). The project finds the silky singer covering favorites from yesteryear including the lauded likes of diva Aretha Franklin, Philly soul master Teddy Pendergrass, elegant crooner Roberta Flack and the late legend Curtis Mayfield under the production direction of Paul Brown (George Benson, Al Jarreau).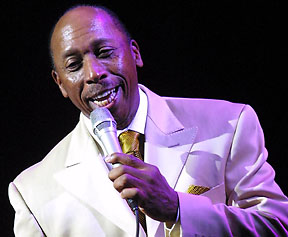 Take for instance his downright sultry take on Barbara Mason's "Yes, I'm Ready" or the fellow romantic dusty first made famous by Pendergrass' "Close the Door." Rather than sticking verbatim to either arrangement, his five piece band and two background singers added a series of jazzy steps and funky bass lines, also evident on a more sophisticated throwback to The Spinners' "I'll Be Around."

When it came to originals, Osborne was better off the earlier he dug, especially in the case of L.T. D. material. The group's "(Every Time I Turn Around) Back In Love Again" scooted with a delectable groove that shifted the tone from toe-tapping to throw down. On an unfortunate note, the solo power ballad "On the Wings of Love" sunk in sap, while the additional breakthrough "Stay With Me Tonight" hasn't aged with gracefulness due to its dated production. Thankfully the singer scored much better luck once again with L.T.D. come "Love Ballad," the quiet storm single that Benson covered on record and performed on his current concert tour. Osborne delicately hit even the highest of its challenging notes and scored a standing ovation, loaded with lots of hollering along the way.

Opening the night was jazzy chanteuse Rachelle Ferrell, who besides rising to fame in her primary genre also found crossover success in the urban pop world. The Philadelphia bred belter/guitarist/pianist is a Berklee College of Music alumnus who was classmates with Branford Marsalis, taught with Dizzy Gillespie for the New Jersey State Council on the Arts and went on to record with the likes of Capitol and Blue Note. During her warm up set filled with seductive scatting and impressive acrobatics, the six-octave singer showcased her vast range, though she occasionally got too carried away with the shouting. Though never as extreme as Patti LaBelle on one of her tangents, Ferrell walked a little too close to the line at times and was best showcased within a more natural and easygoing delivery.