Story and photos by Andy Argyrakis

Rumor mills have been circulating that this may very well be Tom Petty's last tour, though that threat has been made by countless rock and popsters over the last decade and proven to be false.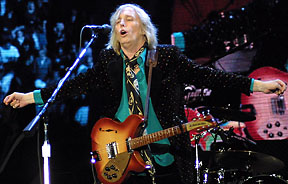 But if iconic singer/songwriter and the Heartbreakers were to call it a day after this year's Highway Companion tour (also the group's 30th anniversary on the road) it would undoubtedly be with a bang. Like many outings of the past decade, the set list remained unpredictable, mixing golden oldies, deep cuts, covers and new selections while the players remain sharp and able to improvise at the drop of a hat.

Petty's no frills approach was instantly appreciated as he and the seasoned Heartbreakers kicked into a string of classics such as "Listen To Her Heart," "Mary Jane's Last Dance," "I Won't Back Down" and "Free Fallin'." Those points of instant familiarity seemed to warm up the audience for material from Highway Companion, Petty's third official solo album. Unlike the pop premise of Full Moon Fever and the harmonica heavy roots sounds of Wildflowers, the new disc takes on an organic earthiness filled with chilled out reflections. Though the songwriting and studio performances are again superb, tracks such as "Saving Grace," "Square One" and "Down South" didn't reach their full potential until placed against the Heartbreakers' unbreakable live chemistry.

Though not quite as obscure as the group's mind blowing residency at the Vic Theatre in support of The Last DJ, there were still some unexpected plums for die-hards to devour. Petty and company dusted off "It's Good To Be King" and "Cabin Down Below" after being absent from recent trips through town, while the increasing attention towards "Handle With Care" (from his historic Traveling Wilburys sessions) continued rising in popularity.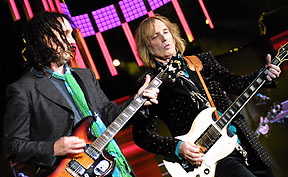 Being in Chicago also meant a handful of blues tipped covers, including "Too Much Monkey Business" (as a tribute to Chuck Berry) and "Oh Well" (from Peter Green's blustery version of Fleetwood Mac). No matter what the tune, Petty was a mixture of casual swagger, smoky vocals and insurgent strumming, that only seem to ripen with age despite visible wear to his body. But any line etched within his face is merely a symbol of the road, which he and the Heartbreakers have already conquered for three decades right up until today. As "Learning To Fly" reminded in a high point of the evening, Petty seems to have found his wings, so hopefully he'll keep them airborne beyond the immediate future.

Openers The Strokes were part of a lengthy list of bill sharers that include Beck, Frank Black and the Dandy Warhols, and while the pairing looked pristine on paper, it wasn't nearly as solid as it should've been. On record The Strokes have churned out two exceptional offerings: its debut Is This It and this year's First Impressions of Earth with the middle Room on Fire following a distant though still competent third. Yet in concert the group continues to disappoint by never connecting with the true showmanship it requires to deliver members' garage derived grit. While front man Julian Casablancas has come out of his shell ever so slightly, he's the band's major culprit, looking like he'd rather been anywhere else but performing on stage. It a shame really, especially considering "Red Light," "Hard To Explain" and "Trying Your Luck" rocked with such persistent rhythms that they could've connected with the nearly sold out crowd given a little more enthusiasm. Skipping "Last Night" was also a shocker and especially unforgivable, but that's just another reason why The Strokes' records are so essential and its concerts can be skipped.