Story and photos by Phil Bonyata

This night almost became an unscripted version of MTV's "Unplugged." As the power went out in Milwaukee's Third Ward (and the entire Summerfest grounds) at 3:20 p.m. the stages all fell eerily silent with hordes of fans suddenly feeling left in the dark. It wasn't until around 6:00 p.m. that the power was fully restored. The thought of Pearl Jam and Tom Petty possibly going acoustic was way too delicious to imagine. Had the power stayed off would they have scrambled and carried on in true rock n' roll fashion?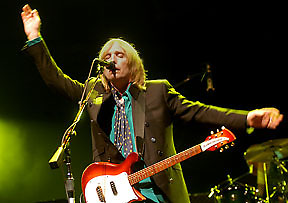 Resurgent Pearl Jam - have seemed to settle somewhere between their very early dynamic and hedonistic performances to the self-important and passionless shows of the late '90s. Eddiie Vedder, with long unkempt hair and beard, let the rage flow on the wickedly powerful "World Wide Suicide." The band let the chops fly around Vedder's teeth clenching and mic grabbing theatrics. Guitarist Mike McCready is truly a master of his craft. Wailing cyanide notes all over Vedder's beautifully strained lyrics. Pearl Jam sent a message - that there is still a heart beating fast to their past and maybe to their future as well.
True-blue rock icon Tom Petty is always a talented and efficient performer. Playing finely crafted rock 'n roll with a charisma that was made for the stage. Petty led the band in spirited and higly electric versions of "Free Fallin'" and "I Won't Back Down." "Saving Grace" - off of Petty's upcoming solo release - let his spiritual guard down on this tender number that was laced with some buttery rhythm guitar. Petty has a penchant for pleasing the crowd with his genuine personality and adept musical ability. His shows don't vary much - but as long as the band always play so well - they don't have to.