The (Al)mighty rearranger
Robert Plant and The Strange Sensation
PBS' Soundstage (WTTW Studio)
Chicago, IL
Sept. 16, 2005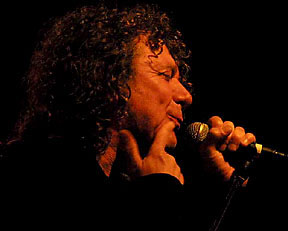 File Photo: Andy Argyrakis
Review by Tony Bonyata

Soundstage was one of the pioneering television programs to feature a host of ongoing live performances from some of the most talented musical acts of the day. Artists such as Bob Dylan, Ella Fitzgerald, Al Green, Aretha Franklin, B.B. King, The Temptations and many other greats were regularly featured on the PBS show, which started back in 1974.
Despite the series ending it's successful eleven-year run in 1985, PBS picked the show back up again a couple of years ago and has recently featured acts such as Fleetwood Mac, Chris Issak, George Jones and Sheryl Crow.
It wasn't until the taping of last Friday's show at the WTTW studios, however, that the program would garner one of its strongest acts in the history of the show. Led Zeppelin's former frontman Robert Plant brought his new band The Strange Sensation in for a two-hour set that weighed heavy on both brand new material from his Mighty Rearranger album, as well as dramatically revamped versions of his iconoclastic Led Zeppelin songs.
Opening with the tranquilized, East Indian-spiced "No Quarter" Plant wasted no time letting the small, but sold-out crowd of 450 fans in the ornate sound studio know that while he was going be embracing the past, he wasn't going to do it without a putting a drastic and refreshing twist on it. Likewise, when the 57-year old rocker (looking fit and healthy, with trademark long curly blonde locks) and his band morphed other Zeppelin numbers into completely different animals, while still holding onto the essence and magic (or magik as the case may be) of the originals. "Black Dog" from Zeppelin's untitled fourth album featured guitarist Justin Adams delivering a snaky, sexy slowed-down groove over an arrangement that contained just enough country twang and metal crunch to make it feel like a runaway Louisiana Hayride heading over a cliff. The percussive power exuded by Clive Deamer on the thundering version of "Four Sticks" was more than reminiscent of the late John Bonham's "hammer of the gods" attack on the drums. Aided with mandolin and upright bass, both the acoustic-laced beauties from Led Zeppelin III, "Gallows Pole" and "That's The Way," retained the wonderfully earthy, organic qualities of the originals, while the opening of "Whole Lotta Love" was transformed into a southern rural, gut-bucket blues number featuring a stinging, iodine-stained guitar lead from Adams, before the song took hold onto its more familiar structure.
The band also performed some really amazing covers, such as Bob Dylan's "Girl From The North Country" and a heavy metal, psychedelic version of Jimi Hendrix's "Hey Joe," which featured keyboard extraordinaire John Baggott injecting an otherworldly synthesizer line that was as menacing as it was disorienting."
But this performance wasn't just about revisiting and rearranging the past; it was, just as importantly, a cause for celebrating Plant's new material as well. Songs from Mighty Rearranger, such as the meaty "Shine It All Around," "The Enchanter," complete with guitarist Skin Tyson's brooding slide work, "Freedom Fries," featuring Deamer's wonderfully offbeat, yet distinctly in-step percussions, the poignant balladry of "All The King's Horses" showcasing Plant's still commanding pipes, as well as the album's title track, featuring a soulful bluesy harmonica solo from the frontman, all proved that this rock & roll shaman has lost nothing - save for the high falsetto screams - from his youthful glory days.


Robert Plant and The Strange Sensation's September 16th Soundstage setlist:
1. No Quarter
2. Shine It All Around
3. Black Dog
4. Freedom Fries
5. That's The Way
6. Hey Joe
7. Four Sticks
8. Tin Pan Valley

9. Gallows Pole
10. The Enchanter
11. Whole Lotta Love
12. Another Tribe
13. All The King's Horses
14. Girl From The North Country
15. Takamba
16. Mighty Rearranger


Here's Your Chance to.... Respond!



Your feedback will be featured on
Rant or Rave within 24 hours.