Story by Tony Bonyata
Photos by Phil Bonyata


With more than a snootful under his belt, Irish punk laureate ShaneMacGowan stumbled onto the stage of the Vic Theater last Saturday withhis band The Popes. And as these five accomplished musicians ran throughalmost 20 Irish reels, jigs and ballads, MacGowan stood stoically behindthe mic, wobbling and belching with an ever present lit cigarette andplastic cup of beer.

Sickly pale and bloated with patchy whiskers and disheveled hair,MacGowan, nonetheless, gave his loyal crowd of Irish folksters, drunkpunks and bottom-of-the-bottle savants a powerhouse of a performance.Running through a handful of rousing numbers from his previous band ThePogues, such as "Dirty Old Town," "A Pair of Brown Eyes" (both fromtheir 1985 album Rum, Sodomy and The Lash) and the pint-hoisting opener"If I Should Fall From The Grace of God,"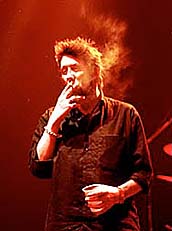 MacGowan proved that he isstill the master at belting out a good old Irish drink song. His talentis, in fact, a natural gift that he doesn't seem to care much about -just as long as he's making enough to cover the next round. It was as ifhe'd just punched into a dreary 9 to 5 job, slobbering drunk and readyto perform the task at hand. Luckily for his audience, however, this isa job that came natural for him, as his gruff, raspy lyrics rolled fromhis lips, apparently, as easy as the liquor flowed through them. "I amgoing. I am going any which way the wind may be blowing. I am going. Iam going where the streams of whiskey are flowing, " he gravelly musedon "Streams of Whiskey," with an unnerving and all too revealinghonesty.

The rest of the show focused on his work with The Popes, who, notunlike The Pogues, also meld traditional Irish folk music with thevolatile nature of punk music. MacGowan grizzly spat out the lyrics on"Paddy Rolling Stone," and viperously snarled "I love you so" throughhis dark, snaggled teeth on "Lonesome Highway," a biting love song fromThe Crock of Gold album. Guitars, banjos and the lively sounds of theaccordion, mixed with MacGowan's saucy gutter poetry, coerced oneextremely large man in his late 30s, clad in a green polo shirt,into a lumbering body surf over the heads of the crowd. An odd but notunusual site for this engaging trad-meets-trash style of music.

About a third of the way through the performance Shane left the stage,surely to either binge or purge, as The Popes held court on a spiritedinstrumental reel without their soused king. After returning to thestage it didn't take long to see that the alcohol was taking over, as heeventually turned his back to the audience and spat up all over thestage. Unapologetic, he unflinchingly finished out the performancebefore exclaiming, "I've got one more song. It's been great puking uphere," as if this was just a part of the stage show. Of course, if he'puts it away' anything like he did in Chicago for the remainder of histour, you can bet that it always will be.