Story and photos by Tony Bonyata

The last two times Radiohead played in the Midwest the venues were sprawling, outdoor events that attracted tens of thousands (2001 at Chicago's Hutchinson Field on the city's lake front and at Alpine Valley Music Theater in East Troy, WI back in 2003). But when the Oxford, England quintet took to the stage last Monday and Tuesday at Chicago's beautifully ornate Auditorium Theater it marked a much more intimate affair for their fans.

On the second of their two sold-out Chicago shows the band emerged for a twenty-two song set that incorporated material from their entire back catalogue - save for their 1993 debut Pablo Honey. With a set-list that changes dramatically from night to night, Tuesday evening's performance equally showcased their more experimental material from Kid A (the ghostly beauty of "How To Disappear Completely," the cacophonic, well-orchestrated jazz-noise of "The National Anthem," along with the drastically reworked title-track) with material from both their more guitar-driven Brit-pop album The Bends and groundbreaking effort OK Computer.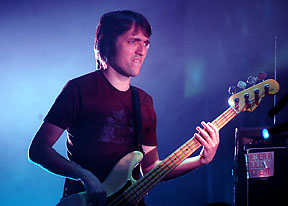 And while they've been moving towards a more experimental electronic sound over the years, this particular performance highlighted a decidedly more guitar-driven style of rock. From the opening number "Airbag" to "My Iron Lung" and "Myxomatosis (Judge, Jury & Executioner)" the noises that emitted from guitarist Jonny Greenwood and Ed O'Brien's instruments were at times incendiary, menacing at others and quite often breathtaking. In fact, there were many numbers throughout that featured four guitarists (including bassist Colin Greenwood), which, while Radiohead has certainly performed this way in the past, it was refreshing for them to bring guitars back into the forefront for much of their live show.

With no new album in sight until 2007 the band decided the time was right to preview some of their works-in-progress and this show weighed in heavy with eight new compositions that ranged from the guitar-fuelled rocker "Bangers 'n' Mash" and slow-groove of "Nude," to the gentler beauty of "Videotape" and "All I Need," both which featured vocalist Thom Yorke on an upright piano (the latter song which made its live debut that evening).

With not only elegant lighting and fragmented video screens at the back of the stage, the musicians themselves also kept the interest level at a peak throughout their performance by playing a myriad of different instruments. While the backline of bassist Colin Greenwood and drummer Philip Selway stuck to their respective instruments - locking into one another, both gaze and groove alike, the other three (Yorke and Jonny Greewood in particular) swapped and traded instruments during practically every number. Yorke alternated between electric and acoustic guitars (the latter which, at one point during "Climbing Up The Walls," he played with his teeth), upright piano, organ, tambourine and even a little cocktail drum kit, which he proficiently beat in time with Selway on the new number "Bangers 'n' Mash." Jonny, likewise, traded off from electric guitar, xylophone (which added a childlike naivety to the stunning "No Surprises"), cocktail kit (which he added a percolating beat to Yorke's funky falsetto delivery on the new track "Down Is The New Up") and a strange little box with antennae which he cuddled and tickled as if it was his own newborn. Even O'Brien got into this engaging play of musical instruments when he set his guitar aside for a couple of numbers to sit indian-style on the stage floor and twiddle varying pedals and other electro-nerdery.

For their second round of encores the quintet left the enamored audience with the harrowing beauty of "The Tourist" from OK Computer, where Yorke's angelic voice floated in and out of the ethereal soundscape until the song eventually swelled and swooned to its majestic conclusion.

With beautiful retellings of their own past along with extremely promising new material brimming with both solid song-structure and guitars once again back in the forefront, Radiohead seem as if they're just getting started.

"The Black Keys make big elephant noises," Yorke proclaimed just before Radiohead stampeded into their own number "Myxomatosis," and his statement about the opening act was spot on. The Black Keys duo of guitarist/ vocalist Dan Auerbach and drummer Patrick Carney roared through a blistering set of numbers from both their debut Thickfreakness album and more recent effort Rubber Factory. While their rough-hewed sound is directly rooted to the gutbucket blues that has echoed out of the Mississippi Delta throughout the last century, it also owes as much to the bombastic approach of '70s hard rock. With Carney relentlessly punishing his skins and Auerbach's aching, gravelly vocal delivery, primordial riffs and fuzzed-out leads The Black Keys' rough & ready style of blues-rock proved the perfect foil for the otherworldliness of Radiohead.